EDIT MAIN
UPCOMING
8/21 - First Day of School/After School Rehearsal
8/26 - 6th Grade Band STARTS
8/28 - MB Rehearsal, 5-7pm
8/29 - 5th Grade Band Registration Forms DUE
8/30 - Home vs. Willard, MB report @ 4:30pm
9/4 - 5th Grade Band STARTS
9/4 - MB Rehearsal, 5-7pm
9/6 - Home vs. Oberlin, MB report @ 4:30pm
9/11 - MB Rehearsal, 7-9pm (Mandatory evening rehearsal)
9/13 - Away vs. Keystone, MB report @ 4:30pm
9/14 - SC Parade of Bands, MB report @ 4:30pm
Band Concerts
December 4 - Winter Concert (Grades 7-12) @ 6:30pm
January 22 - Winter Concert (Grades 5 & 6) @ 6:30pm
May 6 - Spring Concert (Grades 5-12) @ 6:30pm
Performance Uniforms
*As per the band handbook
Marching Band - issued Trojan uniform (some items are purchased by students), Summer uniform includes khaki shorts & black band t-shirt (for any June or July performances).
Concert Band (HS/JH) - All wear black dress pants, black long sleeved button down collar dress shirt, black socks, black dress shoes, and white matted tie will be issued.
Jazz Band - All wear black dress pants, black long sleeved button down collar dress shirt, black socks, black dress shoes, and white gloss tie will be issued.
Pep Band - Black band t-shirt and long blue jeans
5th/6th Grade Bands - Black band t-shirt and long blue jeans
SC Band Videos
If you would like to see our videos on Youtube, click here. Videos uploaded regularly.
Band Facebook Page
Like us on Facebook! Search for "South Central Trojan Bands" or simply click on the image below. This will be one of the ways that Mr. Gaither will communicate with band parents, students, alumni, and friends.
Mr. Gaither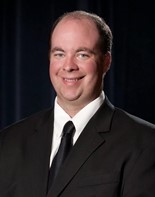 Mr. Gaither received his Bachelor of Arts in Music Education degree from Hiram College and his Masters of Education from Kent State University. Mr. Gaither's primary instrument is euphonium. Mr. Gaither's wife is a music therapist at Cleveland Clinic Hospital in Akron and sings in the Cleveland Orchestra Chorus.
Feel free to email Mr. Gaither at: jgaither@south-central.org