CONGRATULATIONS on winning Firelands Conference Champion to our 2022 girls track team!

Congrats to our Relay Teams!!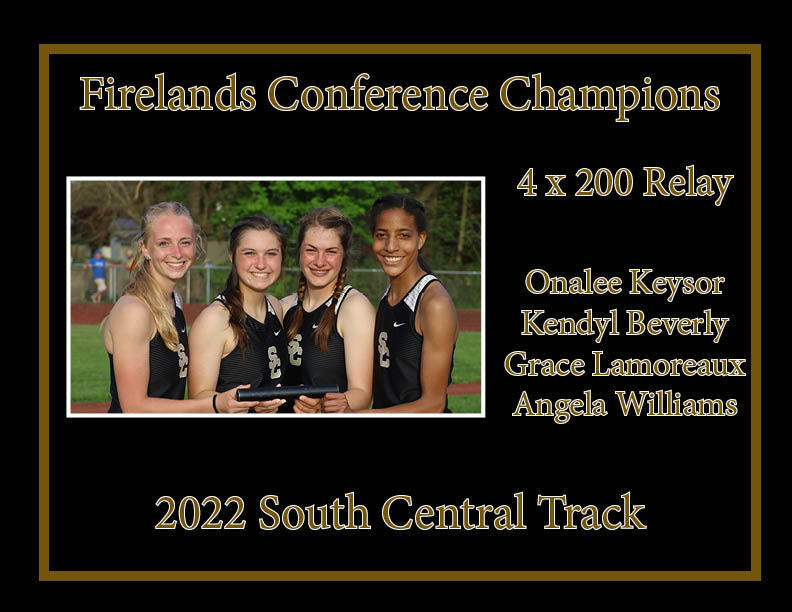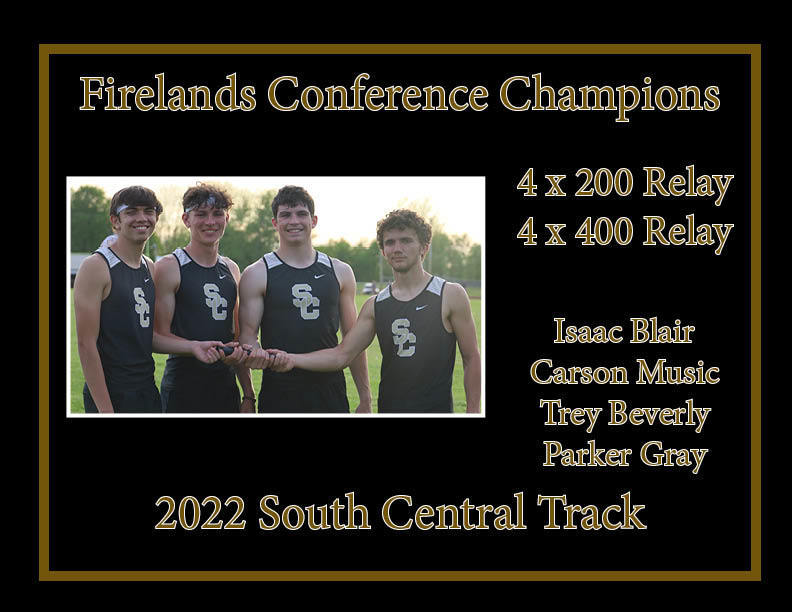 Congratulations to our Girls Track individual winners!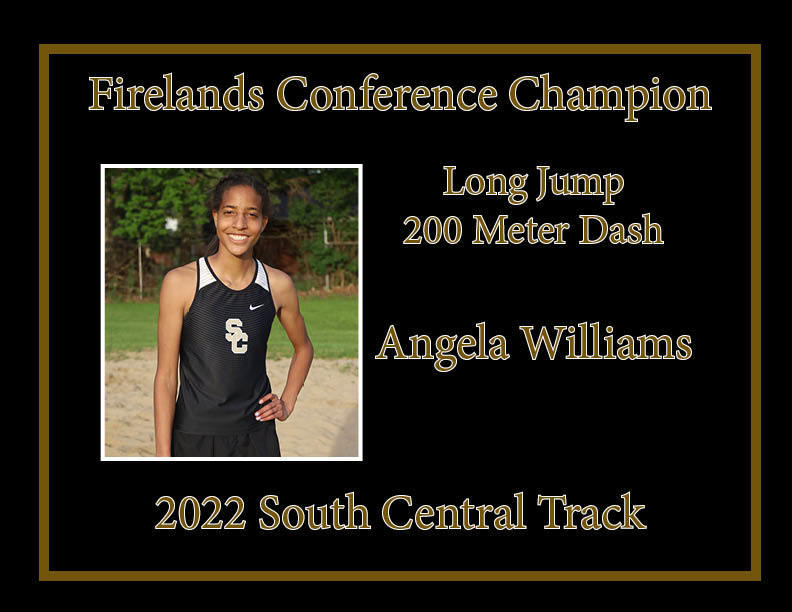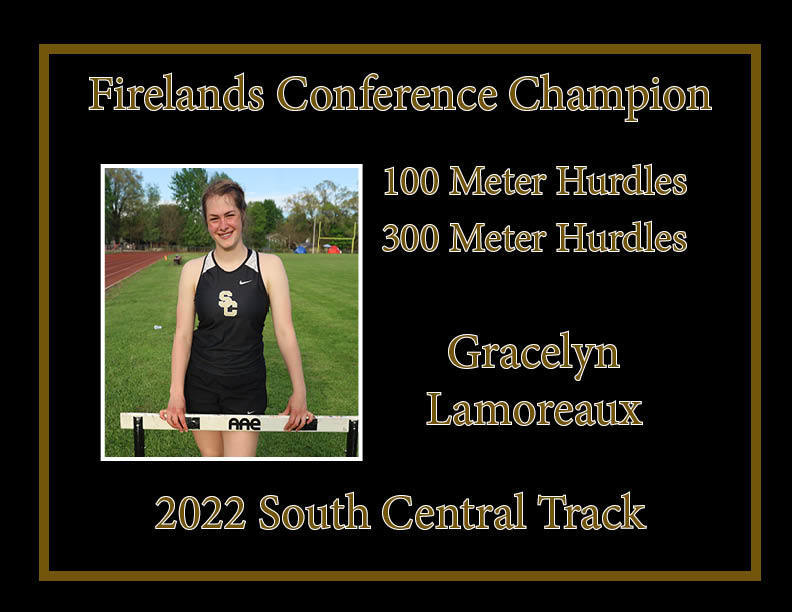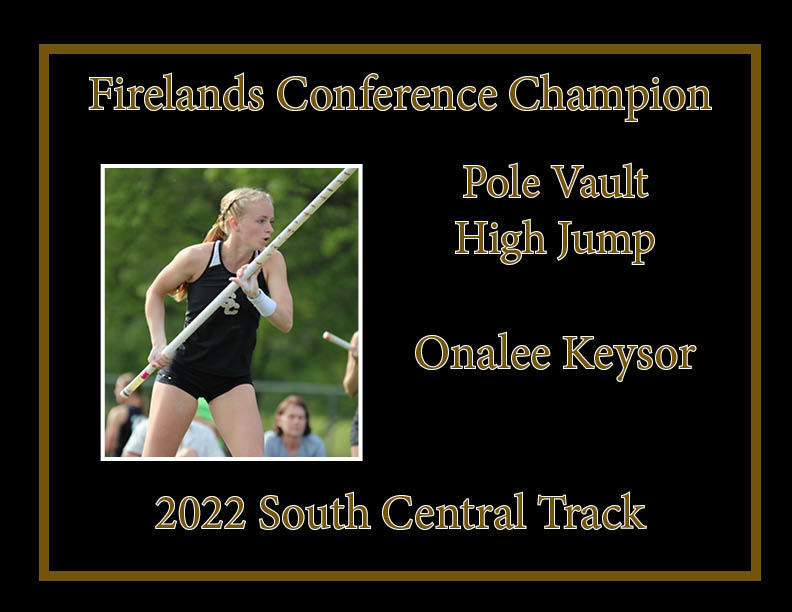 Congrats to our Boys Track individual winners!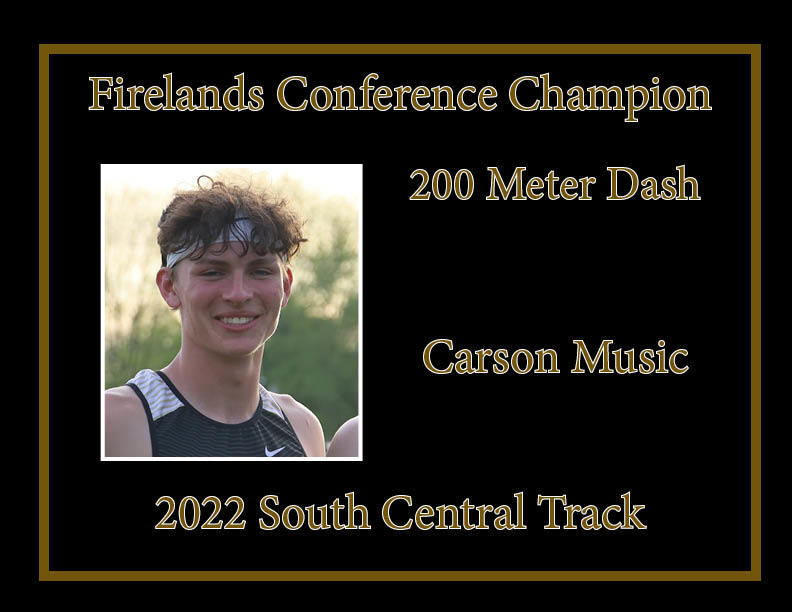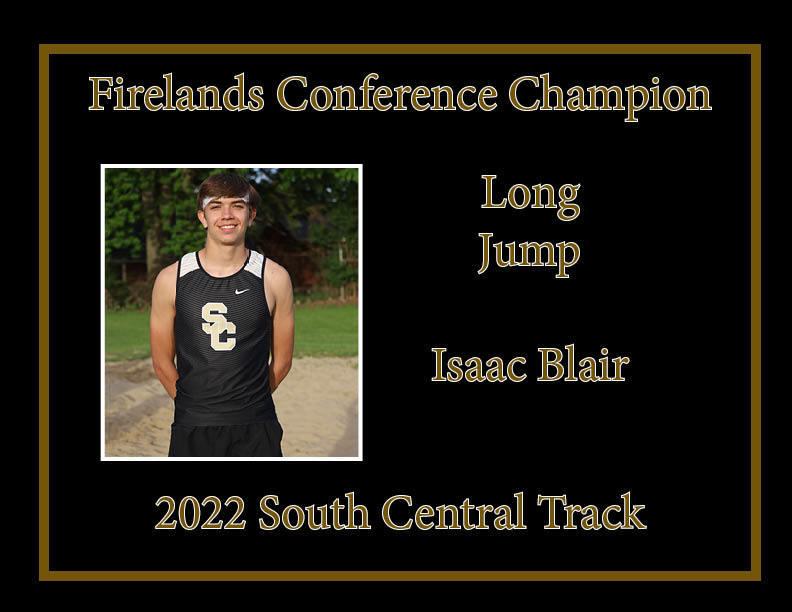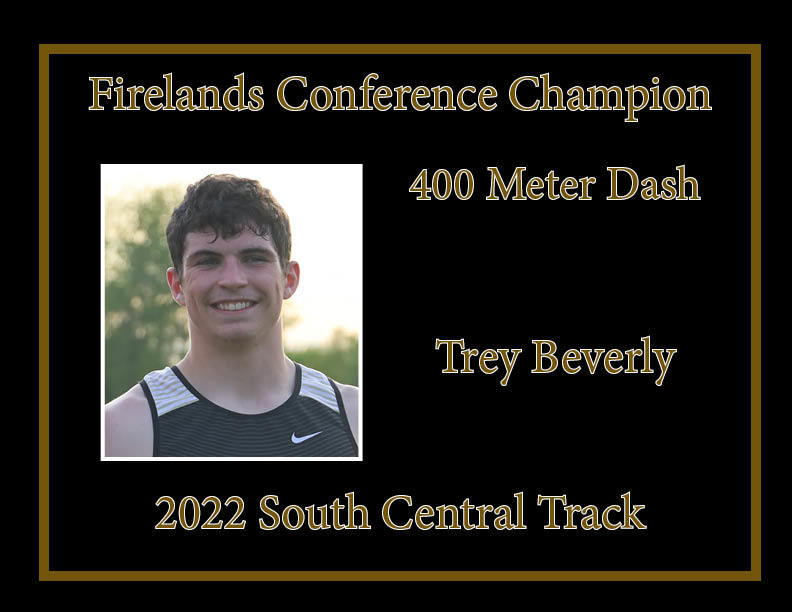 Please find attached a posting for a High School Counselor position. Submit a letter of interest and resume as soon as possible to: Mr. Thomas Hellickson Principal, South Central High School 3305 Greenwich Angling Rd. Greenwich, OH 44837 Fax: 419-752-0182
thellickson@south-central.org
-- posted May 19, 2022-- "Together We Can"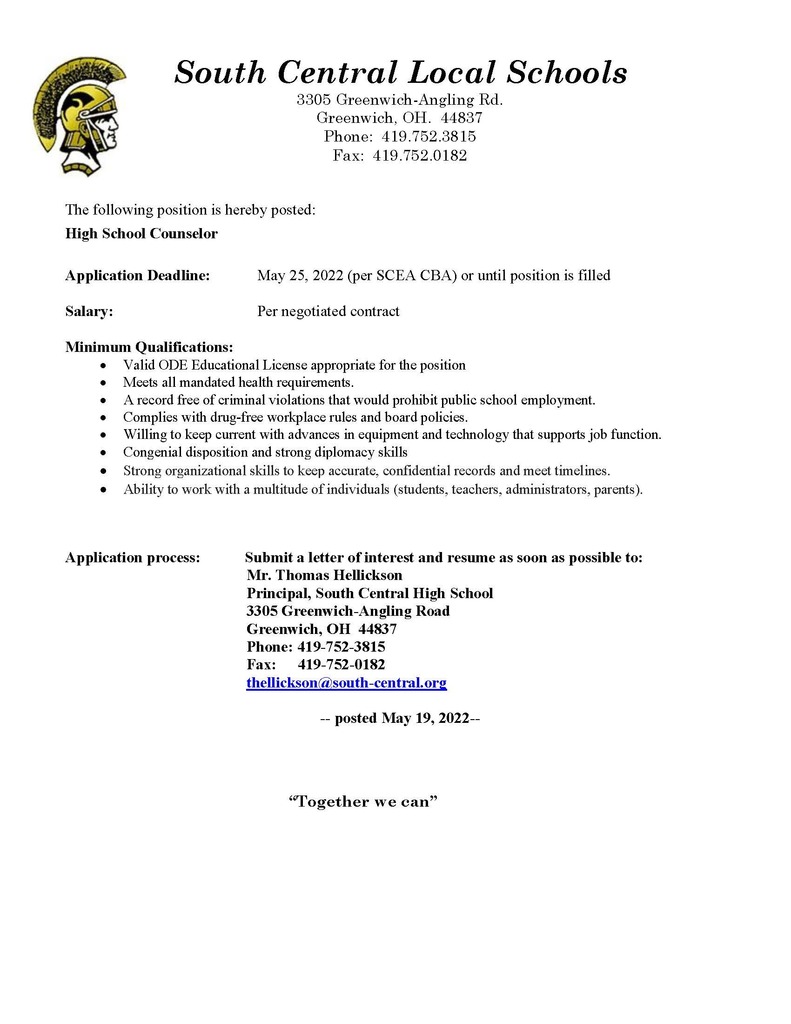 The 2022 Yearbook Sales Campaign is here! The Yearbook Staff will be pre-selling the yearbooks through May 25. This year there are two separate yearbooks. A paperback yearbook will be available for grades Pre-K-8 for $20.00. A hardback yearbook will be available for grades 9-12 for $40.00. Both yearbooks can be purchased for $50.00. There are several ways to place your order. Parents and students can return this form with cash or check to Mrs. Wallace in the Elementary Library or Mrs. Seidel in Rm. 8 at the High School. You may also send this form along with your payment directly to the high school office in care of the Yearbook Staff. Checks can be made payable to South Central Yearbook. The 2022 yearbooks can also be ordered online using the following link:
https://www.payschoolsevents.com/events/details/20521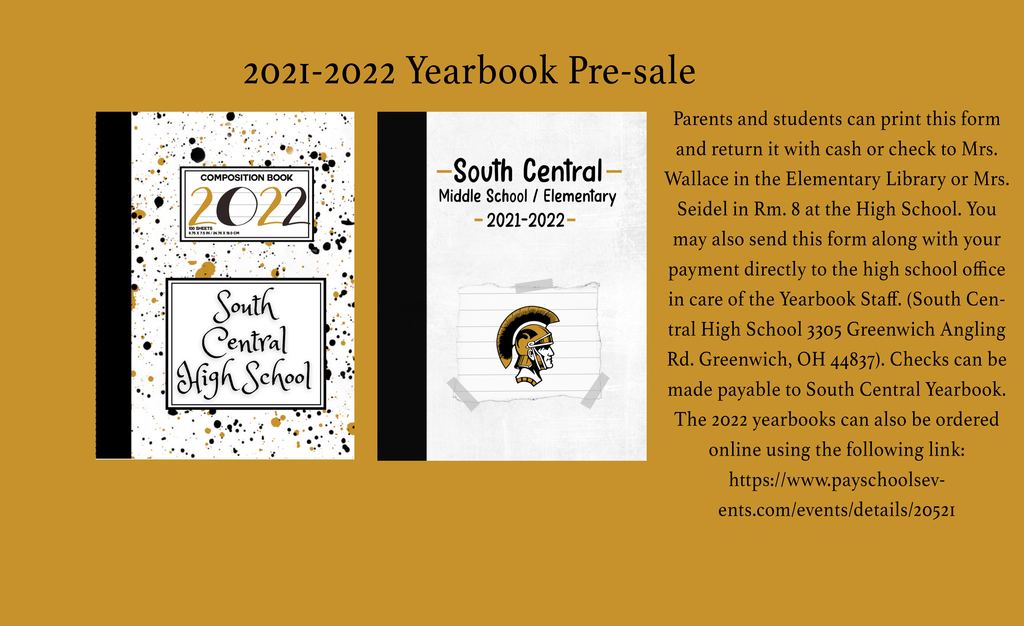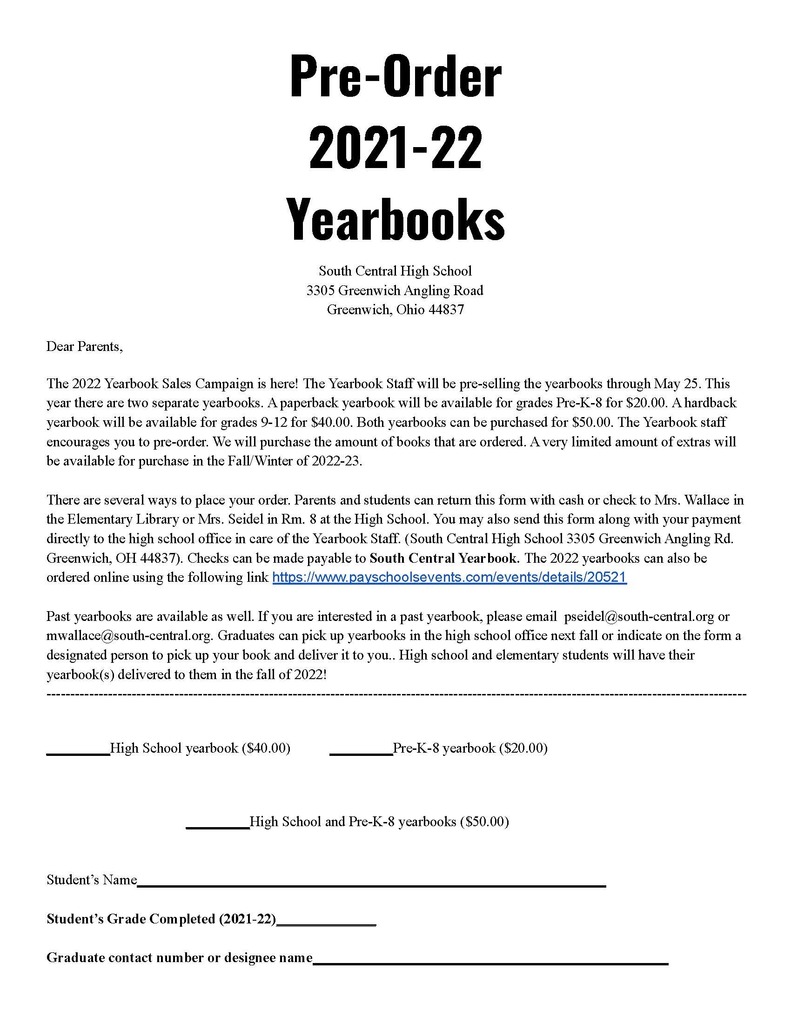 Did you know? About two students per classroom have food allergies. Anaphylaxis must be treated right away with epinephrine to provide the best chance for improvement and prevent serious, potentially life-threatening complications. About 32 million people have food allergies in the U.S. Allergic reactions can involve the skin, mouth, eyes, lungs, heart, gut, and brain. The most common triggers for anaphylaxis are medicines, food, and insect stings.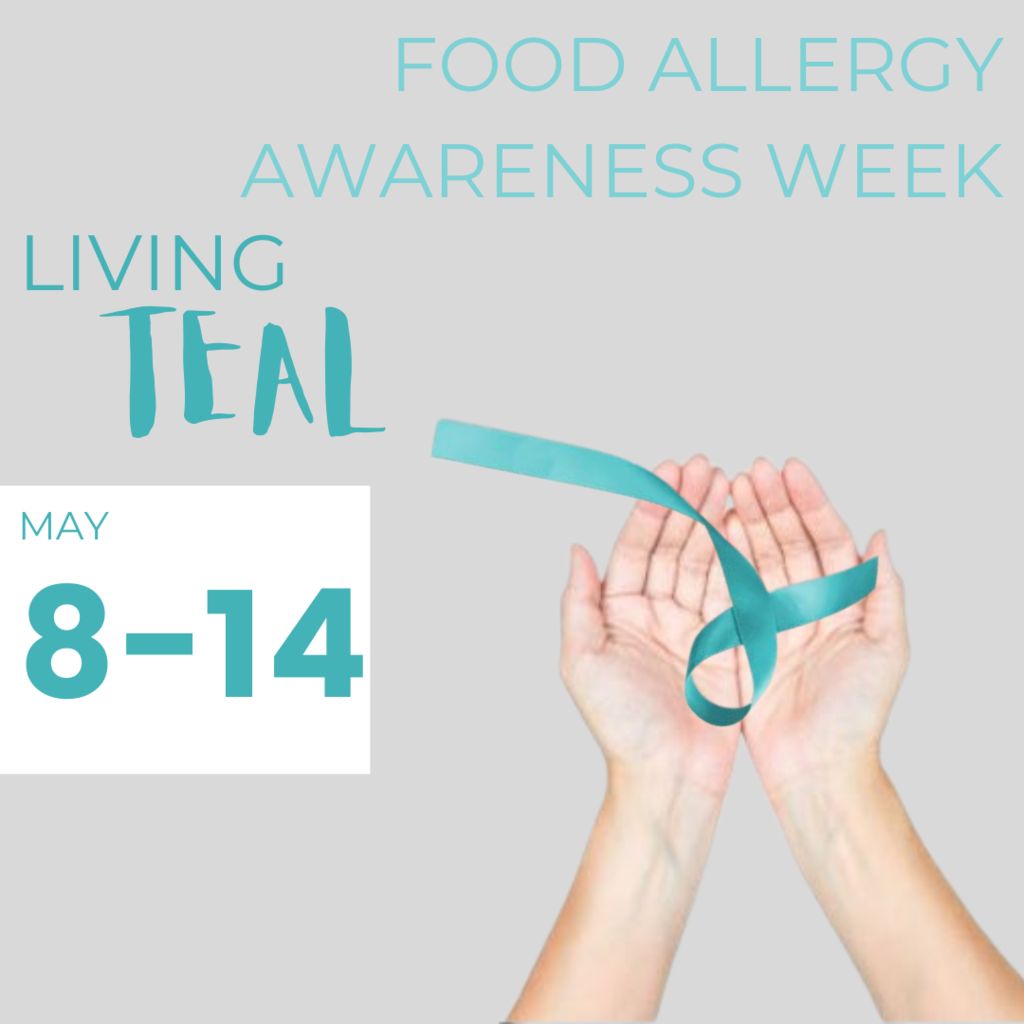 Please find attached an 8 ELA Teacher position. Together We Can...

Stay Close. Go Far. Congrats to our own Onalee Keysor on her signing with Tiffin University Dragons! Oh, the Places You'll Go!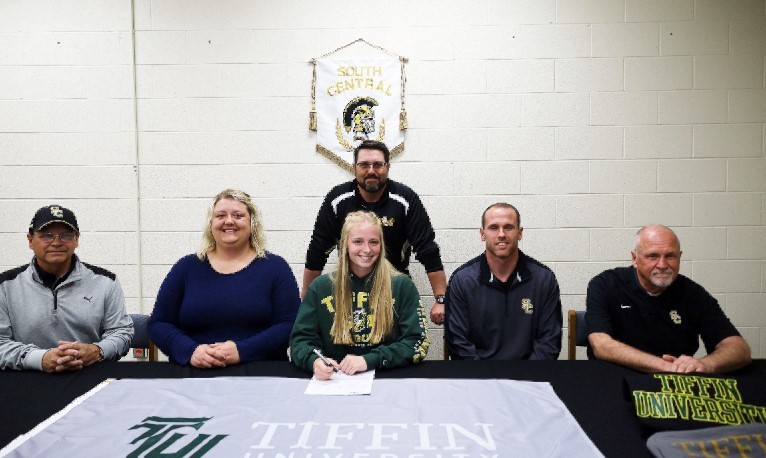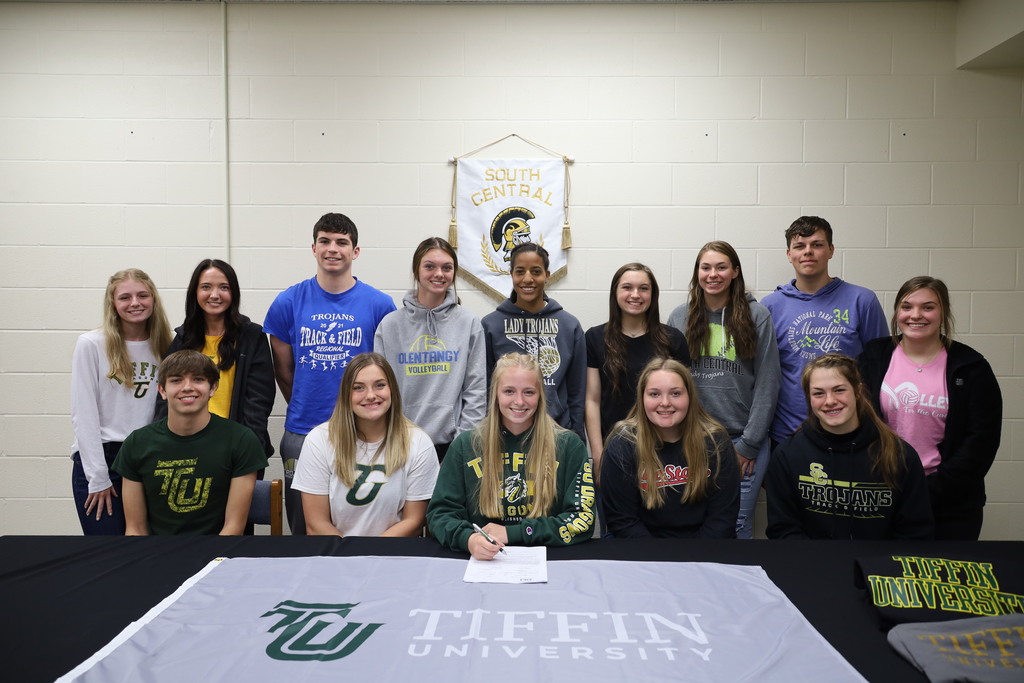 THANK YOU to our incredible bus drivers for everything they do for us! They're wheelie great!!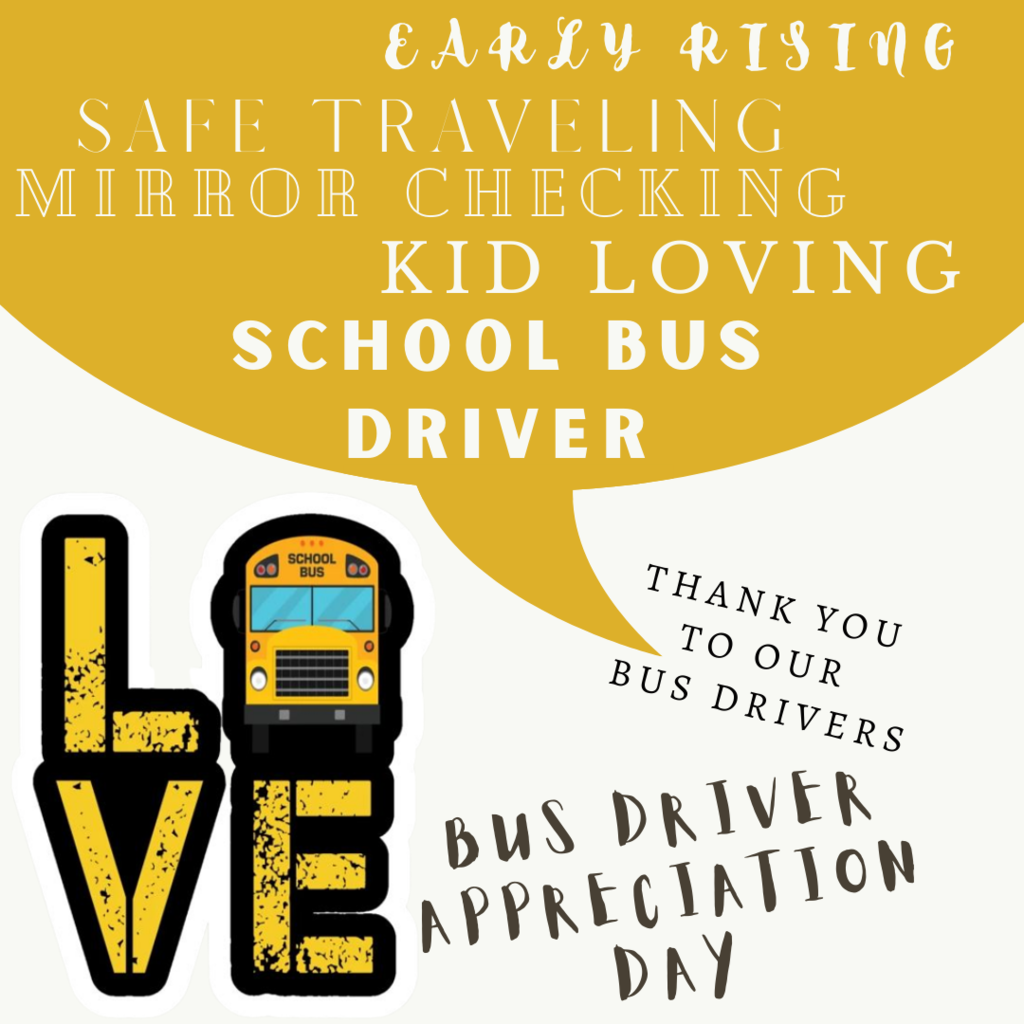 Please find a General Music Teacher posting. Together we can...

To our staff at SC~ Seven glaze a week, we appreciate you! You're the best tart of the solution! We're here for you, whenever you knead us! Thank you very mochi for all that you do!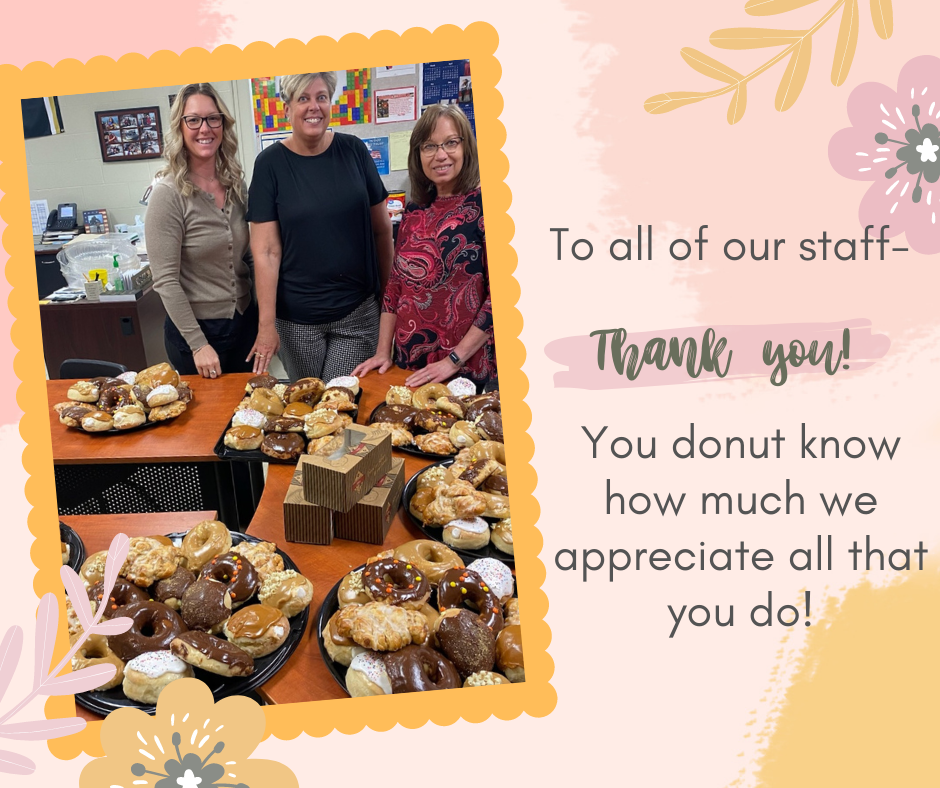 Please find attached a job posting for a 4th grade teaching position. Together we can...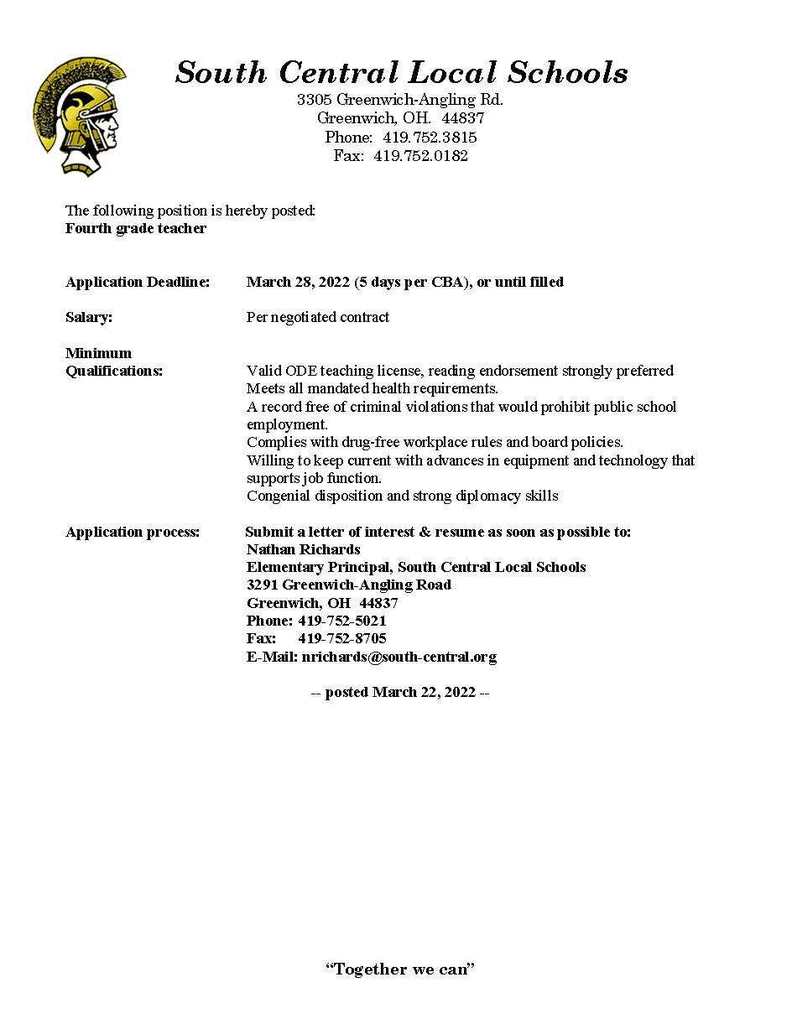 Please find attached a job posting for a 6th grade teaching position. Thank you! Together we can...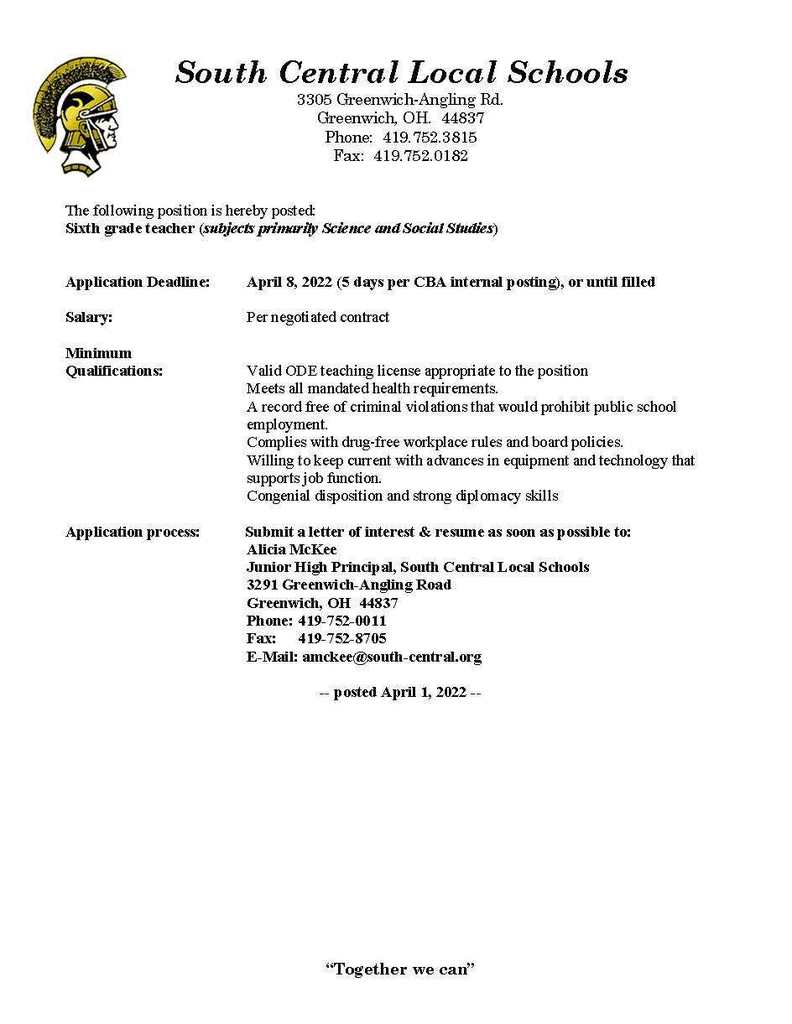 Due to fog, we're on a 2 hour delay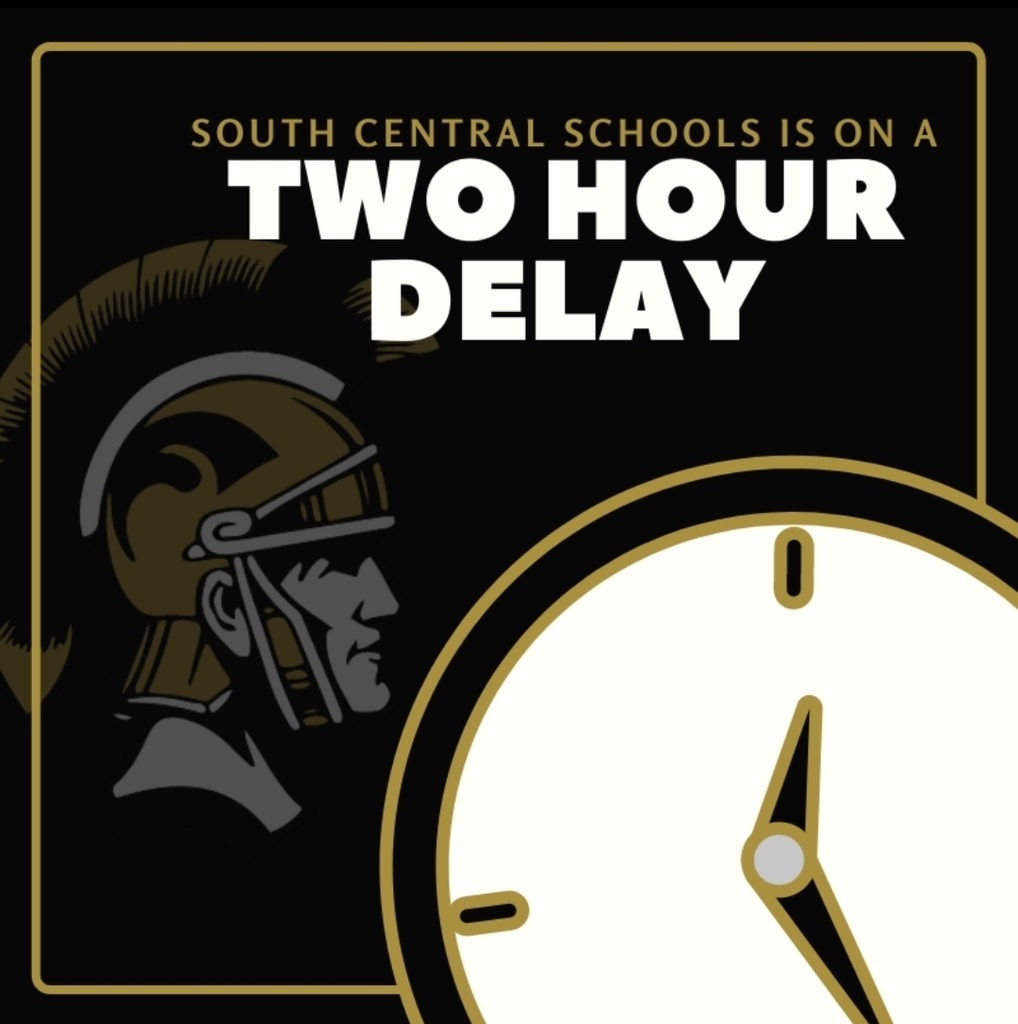 Don't miss the South Central 7th Annual Jazz Festival! Saturday, April 9th at 5:00pm in the South Central Middle School Cafeteria Adult tickets are $15 Senior/Student tickets are $10 There will NOT be ticket sales at the door Contact Melissa Wallace by email at
mwallace@south-central.org
or call (419)752-0011 Ext. #22279 Dinner will include: Swiss Steak, baked potato, green beans, roll, dessert, and drinks There will be performances from South Central, Plymouth, Western Reserves, New Riegel, Bellevue, Brookside, and Malone University Jazz Bands


Our sincerest apologies that on the original posting we had the wrong email address. Please see the corrected posting with the accurate email address.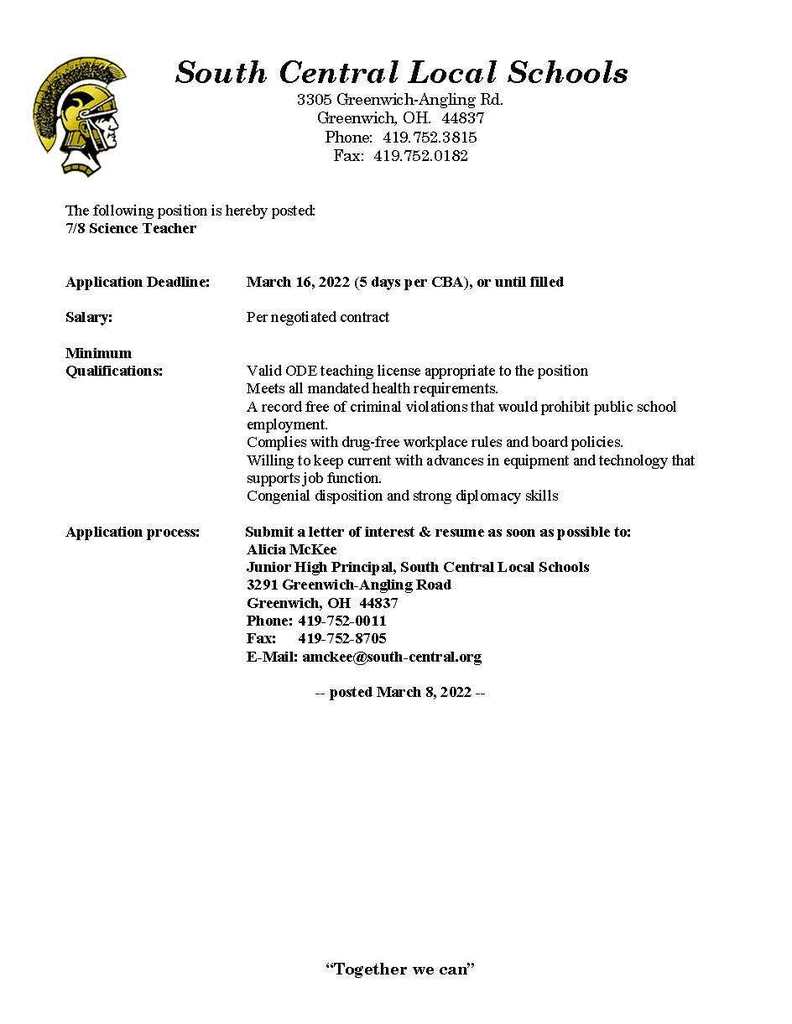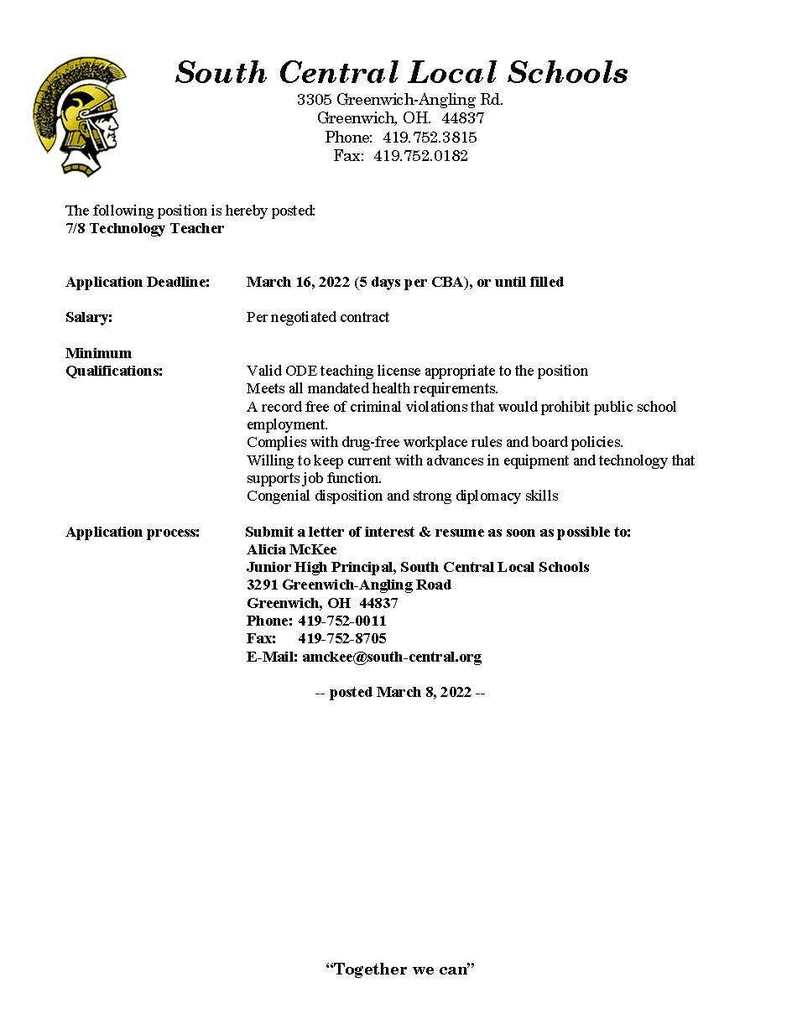 Where the world renowned South Central Marching Band goes, treble will follow! And they were a weapon of mass percussion in the Cleveland St. Patrick's Day parade!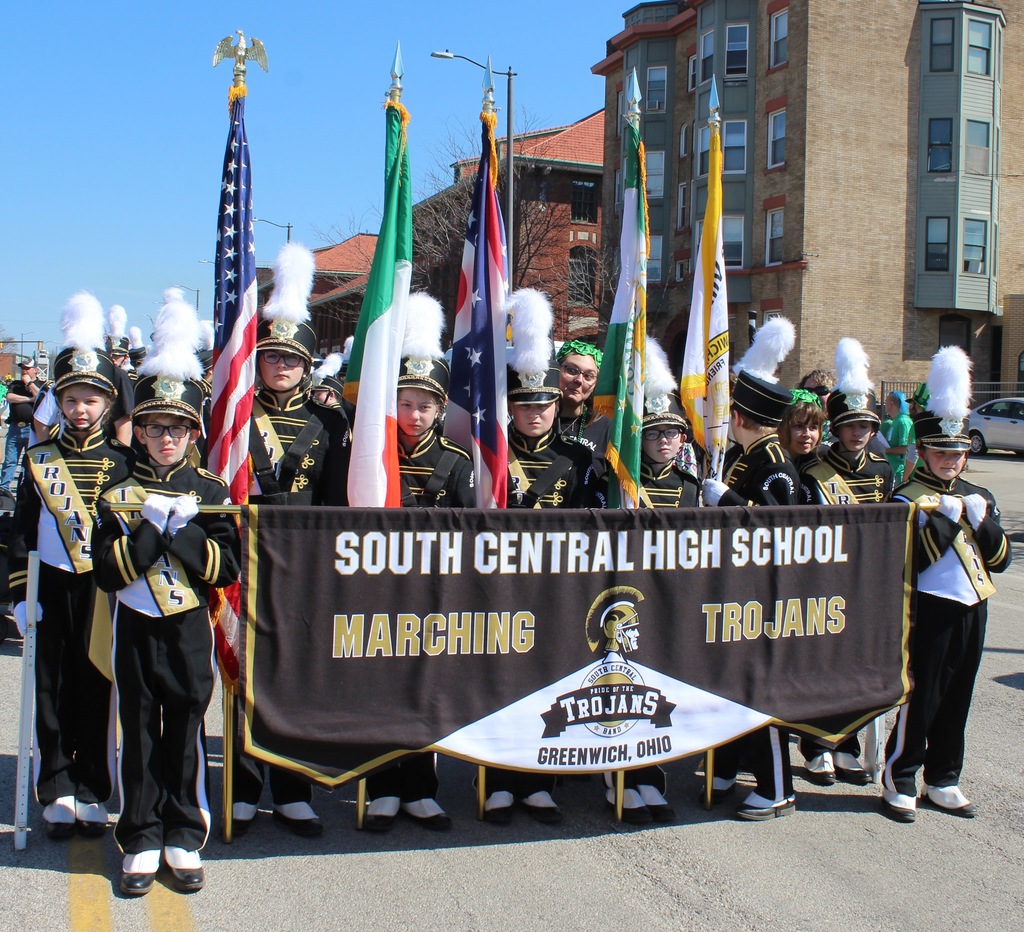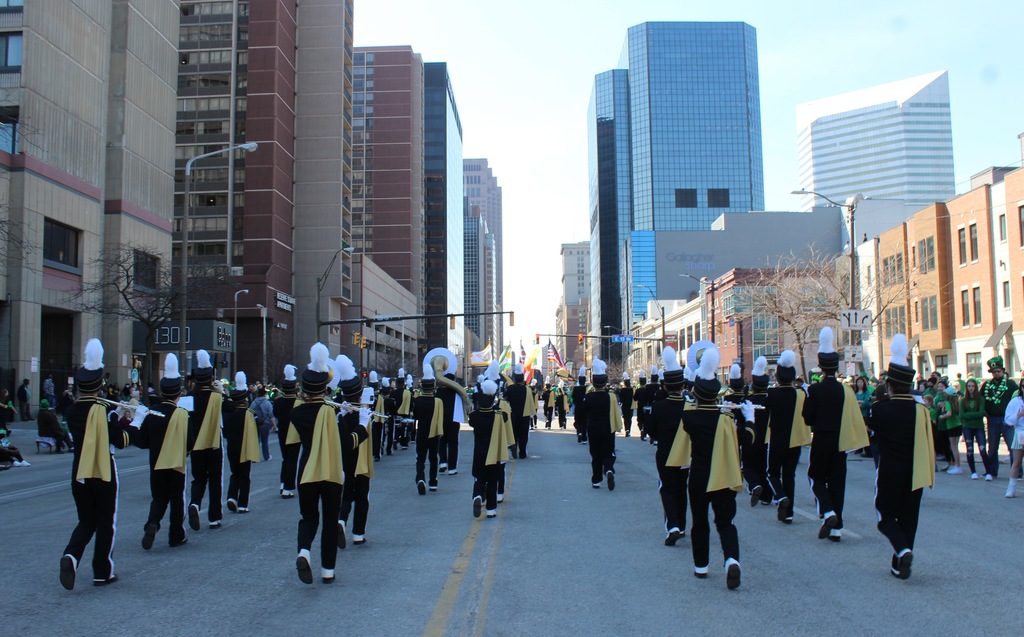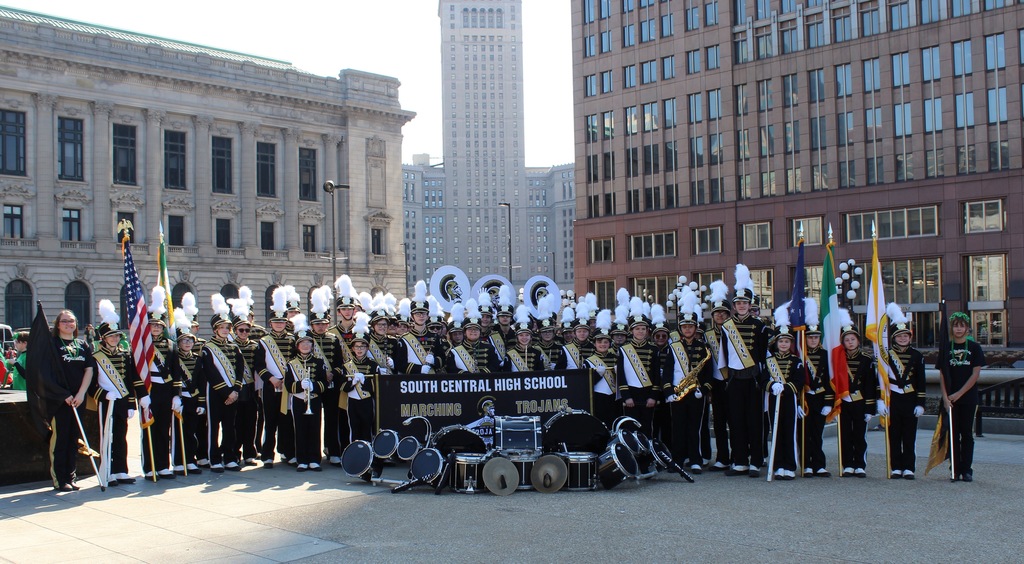 Come join us for Dinner Theatre 2022! There are still tickets available for Friday, March 25 @5:00 and 7:30 and Saturday, March 26 @1:00 and 7:30. Visit scchoirs.org to pay online Call or text 567.224.0797 to reserve your tickets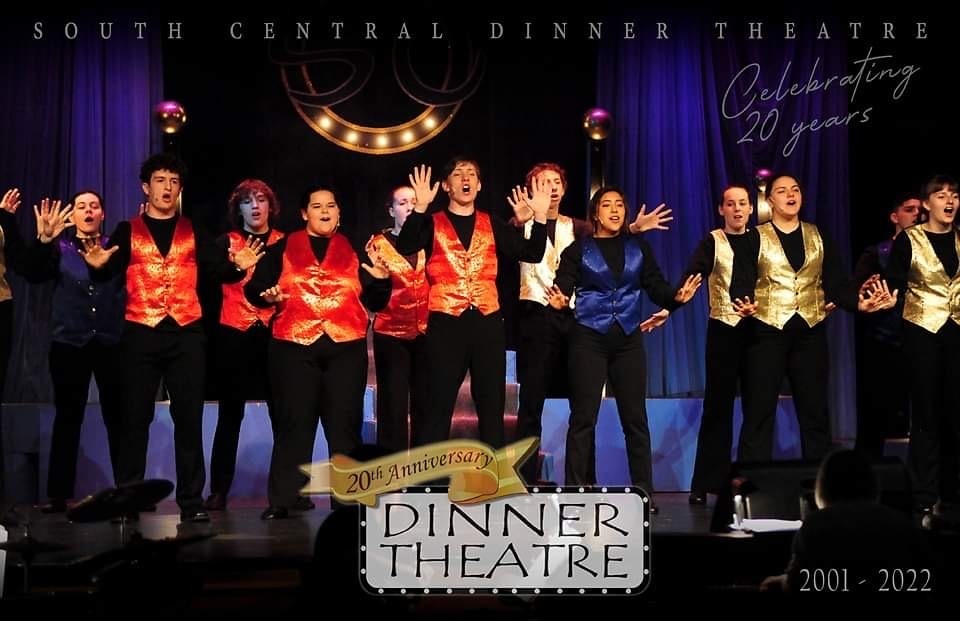 Please find attached a Buildings, Grounds and Transportation Supervisor posting. Submit a letter of interest and resume to: Ben Chaffee, Jr., Superintendent 3305 Greenwich Angling Road Greenwich, OH 44837 Email:
bchaffee@south-central.org
Phone: 419-752-3815 Fax: 419-752-0182 Posted March 23, 2022