South Central High School will be presenting a Remember and Honor Our Veterans program on Friday, November 11th. The program will begin around 9:00 a.m. in the South Central High School gymnasium. A light breakfast will be served before the program at 8:15 a.m. Please R.S.V.P. to Ms. Brown, South Central High School secretary, no later than November 4th. She can be reached at 419-752-3354.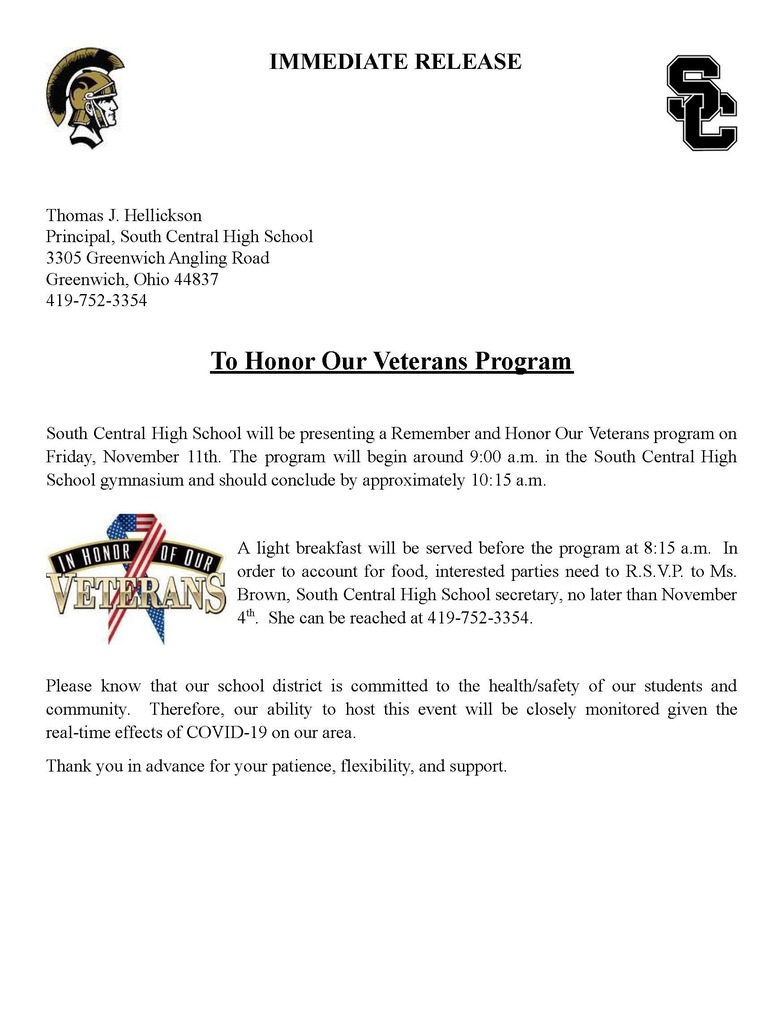 Please see the attached graphic for information about the 2022 Guys and Dolls Musical present by the S.C. Theatre and the upcoming Box Office Night.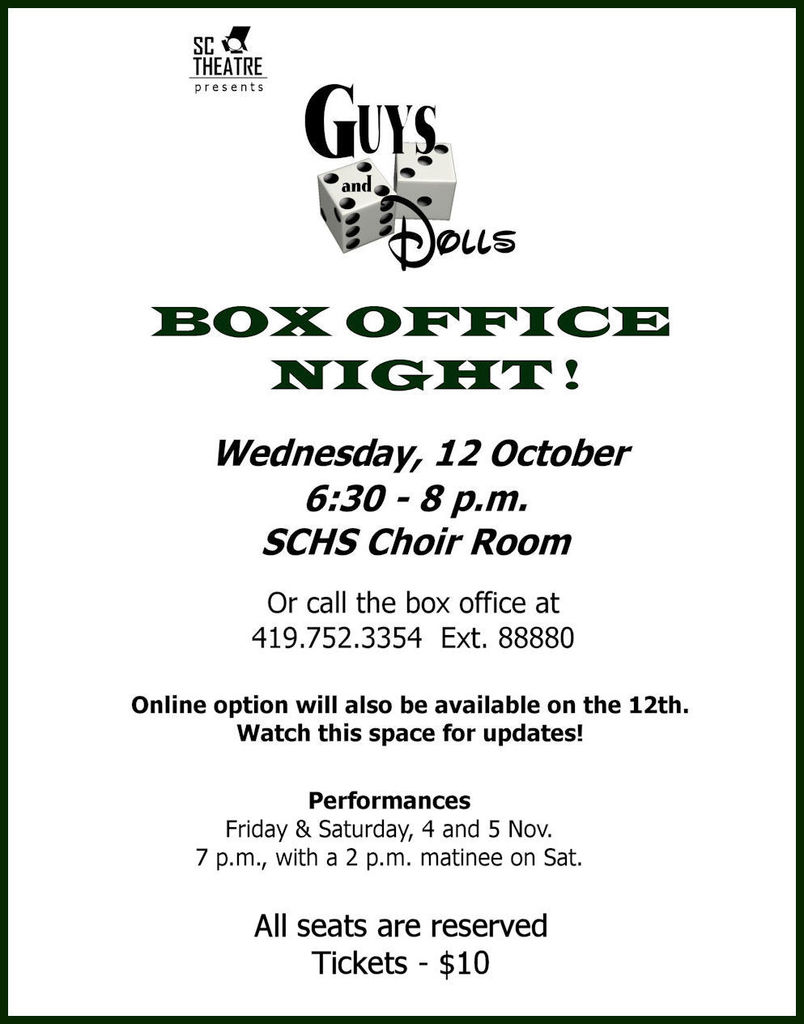 "Gold Out" this Friday, October 7th for the Homecoming game vs Mapleton. This "Gold Out" will encourage our Trojan football players while also promoting awareness of childhood cancer. More specifically it will show our support for a Mapleton 1st grader named Addi Brightbill who is currently fighting a second occurrence of Neuroblastoma.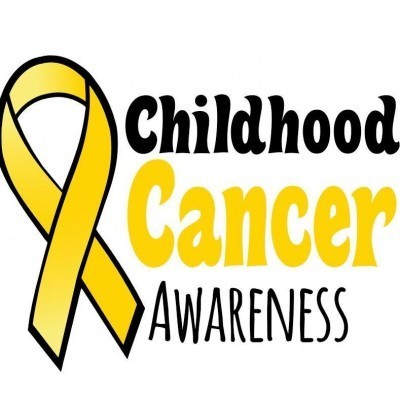 Please see the attached picture for a list of Homecoming 2022 activities and details.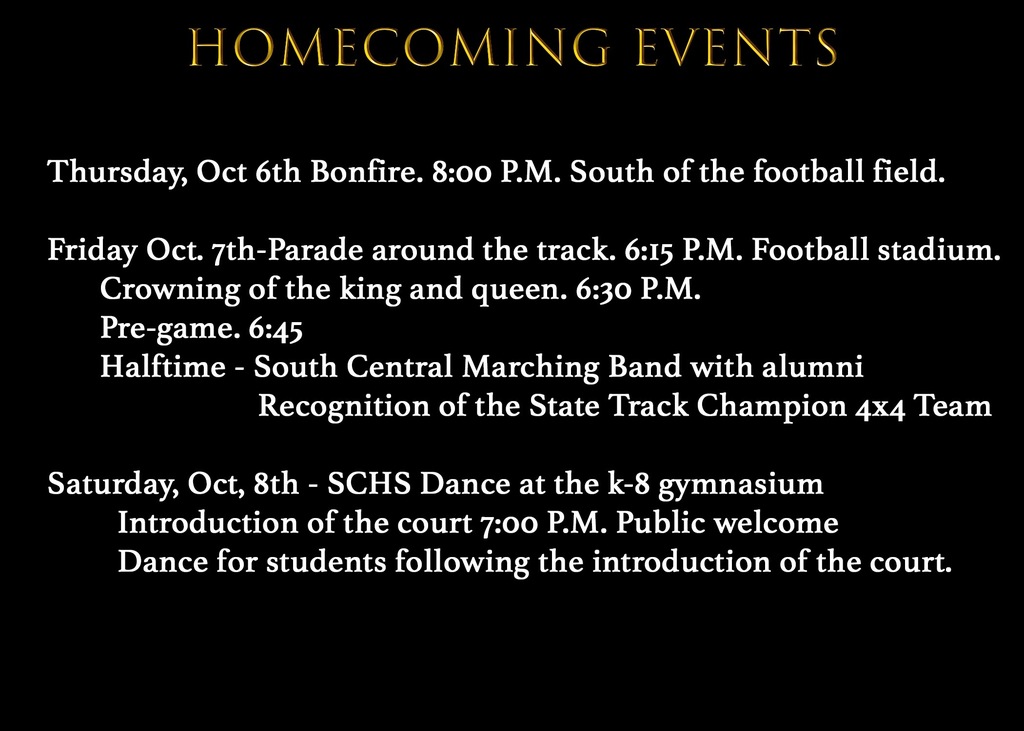 The Homecoming bonfire will be this Thursday, October 6th, at 8:00 p.m., at South end of football stadium. This event will follow the volleyball game. All South Central community members are welcome.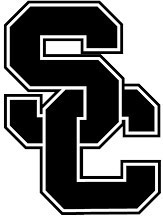 We are asking for quotes for snow removal at the South Central Local Schools for the 2022-2023 school year. Please find the bid specifications attached. "Together we can"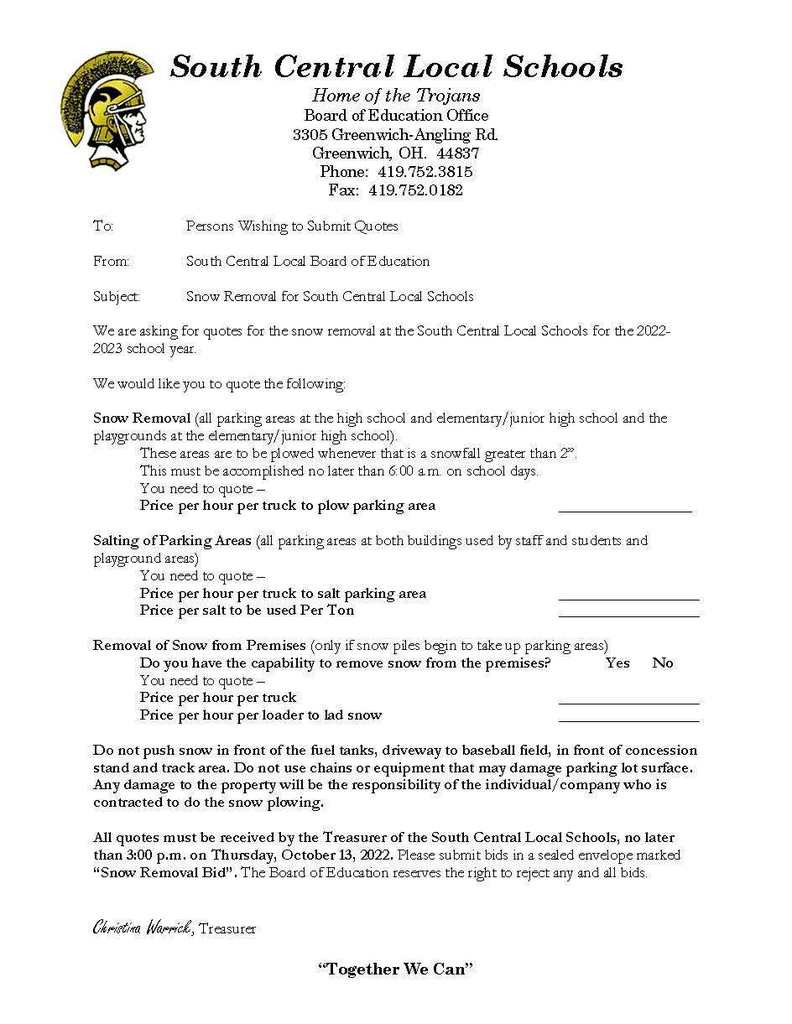 Looking for something to do this today? Why not come to the 7th Annual SC Parade of Bands at 7:00 PM at the football stadium. Featuring local area high school marching bands and our traditional LIGHTS OUT show performed by our SC Marching Band. Tickets are $8 at the gate, kids 4 and younger are FREE! Concessions and glow sticks are available. 

Give me a C...C! Give me an I...I! Give me a T...T! What's that spell? Cheerleaders In Training! This Friday, September 9th, under the lights at the Varsity football game, our spunky little squad of mini-cheerleaders will be showcasing the cheers, chants and dances they are learning this week! Please make sure your daughter arrives at the North end of the home stands by 6:45 p.m. on Friday. A high school cheerleader will be there to check in your daughter. Your CIT needs to wear this year's CIT shirt and dark shorts, skirt or pants with comfortable shoes. Members of CIT have free admission to the game, but parents will need to purchase a ticket at the gate or presale at the school. Grades K, 3 and 4 will cheer during the 1st quarter Grades 1 and 2 will cheer during the 2nd quarter If your child cheers during 1st quarter, you may sign her out with the coaches after the 1st quarter. If your child cheers during 2nd quarter, they will sit with the cheerleaders until it is time to cheer. All remaining cheerleaders will be released at the end of the 2nd quarter. If your child is also signed up for Be in the Band, we will make arrangements to get her to the band before halftime. Thank you for your continued support of the South Central Cheerleading program. Go Trojans!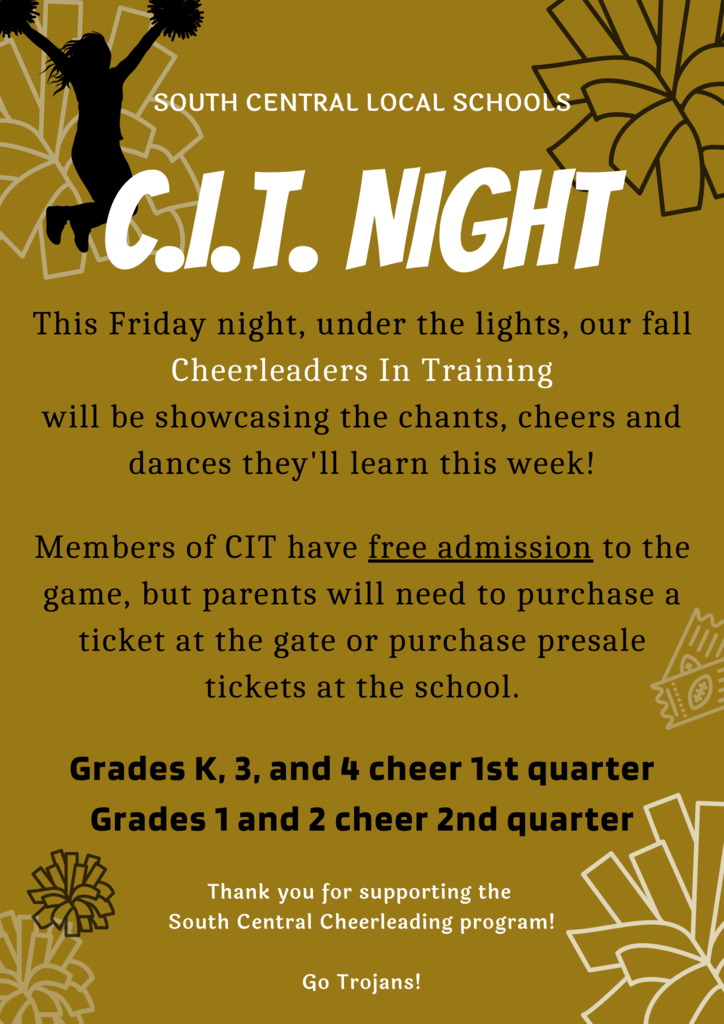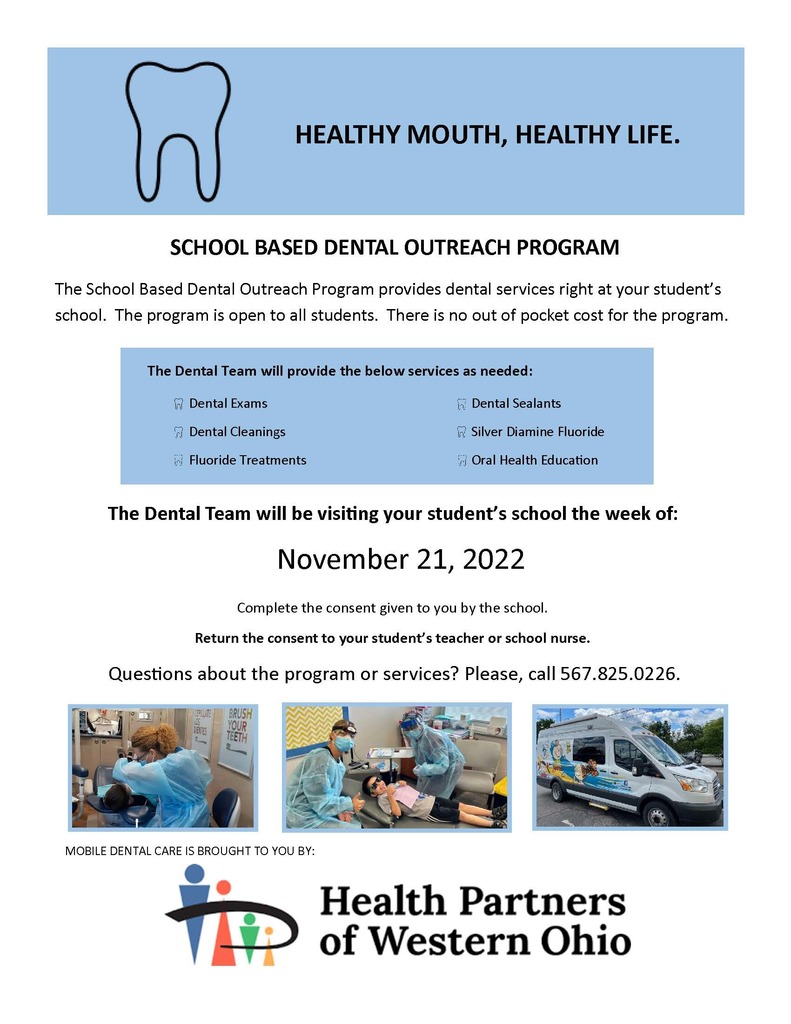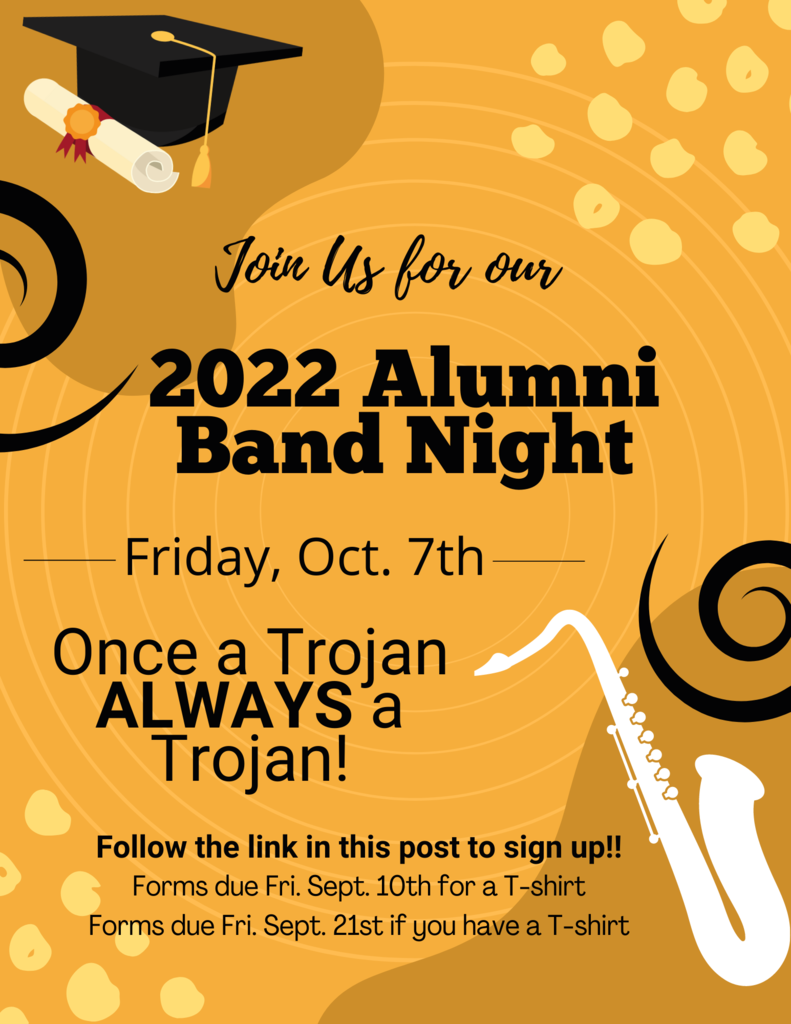 Please find attached a posting for Head Boys Varsity Baseball Coach Together We Can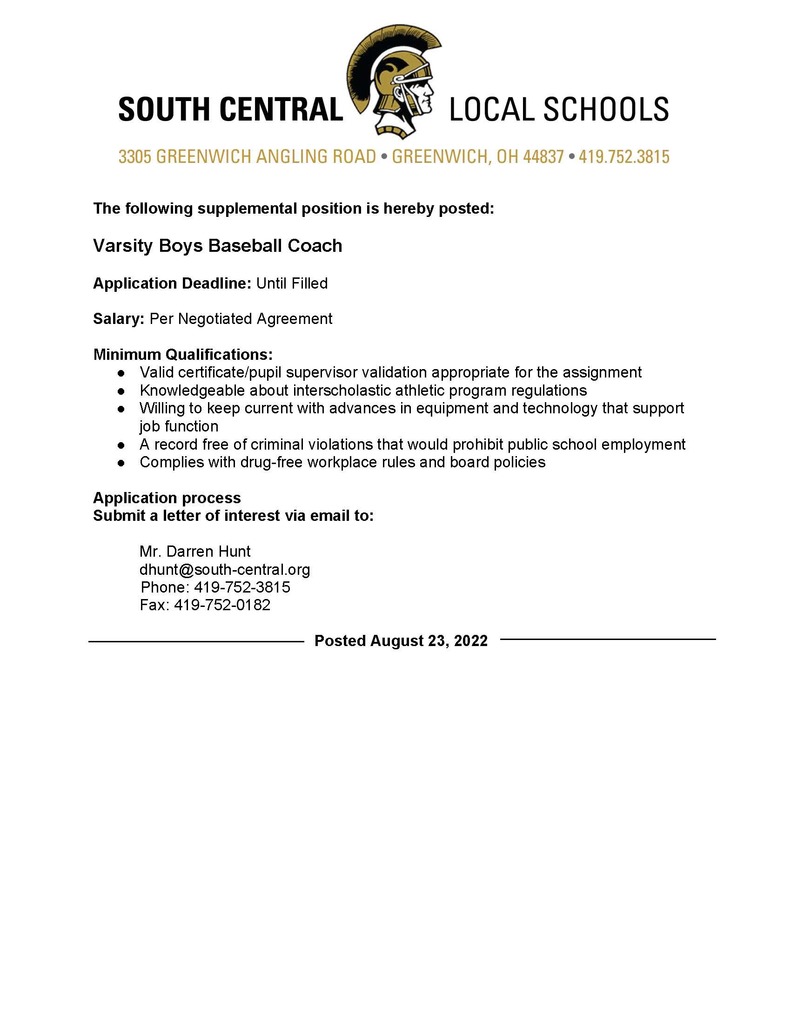 Attention parents of fall athletes... Every 7-12 fall athlete must have an up to date physical on file with the school and all required paperwork completed through Final Forms for an athlete to be eligible to begin mandatory practices on August 1st.

South Central Local Schools is seeking a 7-12 Health and Physical Education Instructor. Together We Can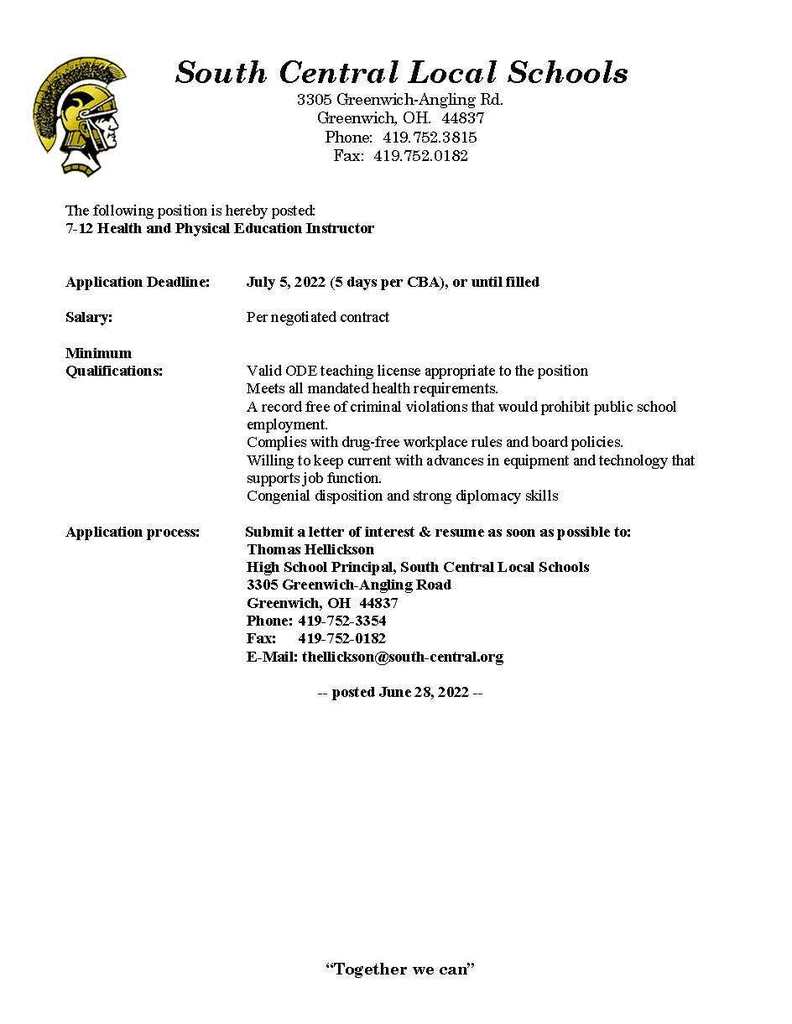 South Central Local School District is accepting sealed bids for the sale of a 2007 66-Passenger Conventional Thomas school bus sold as-is. Specific information is available in the Treasurer's office or by calling 419-752-3815. All bids must be received by the Treasurer of South Central Local Schools no later than 12:00 noon on Thursday, July 14, 2022. Address bids to Christina Warrick, District Treasurer, South Central Local School District, 3305 Greenwich Angling Road, Greenwich, Ohio 44837.

Please find attached a 4th Grade Science and Social Studies opening. "Together We Can"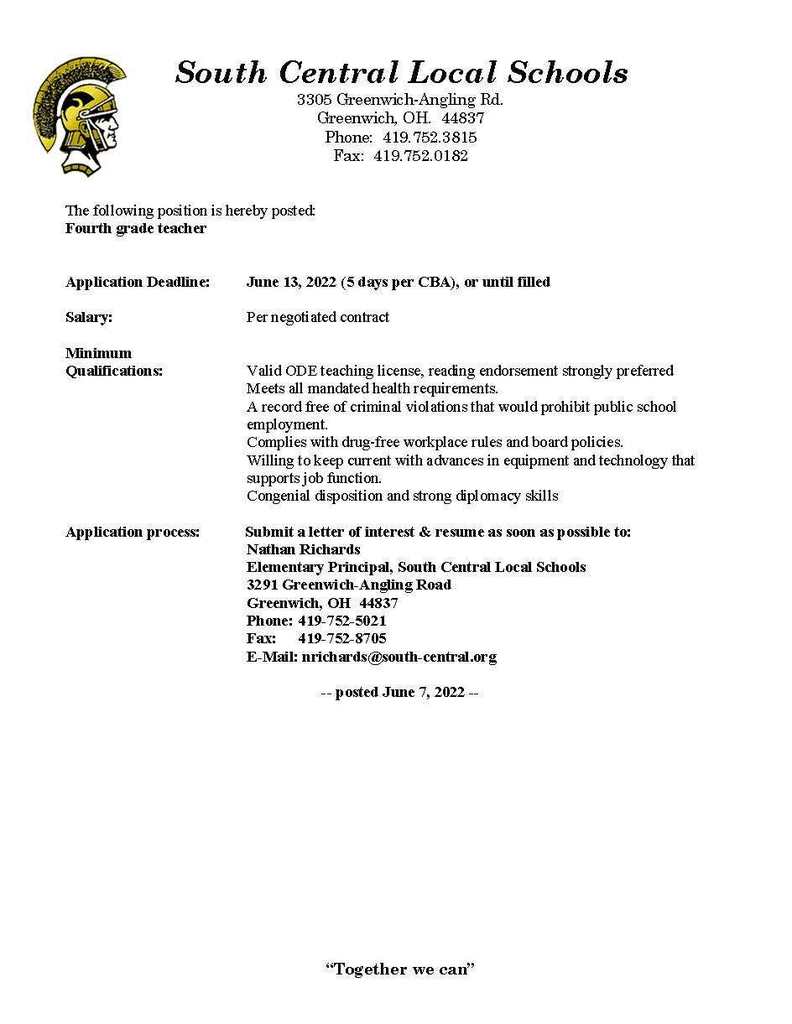 Please find attached the supply list for Pre K-4th grade!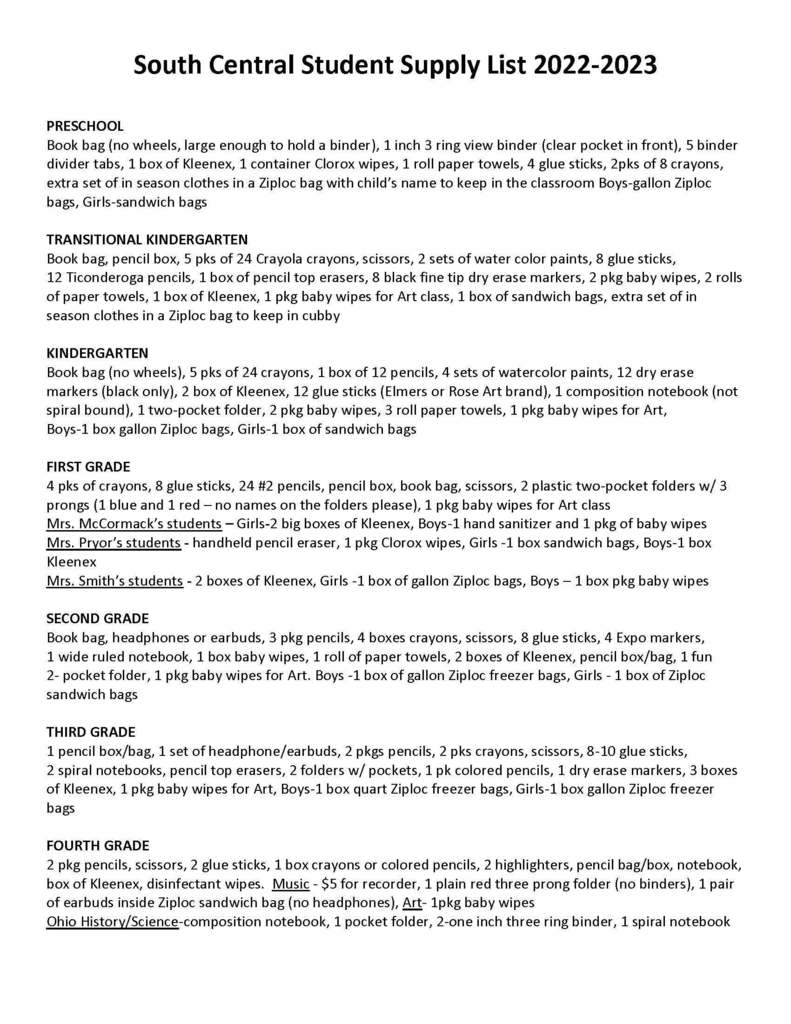 CONGRATULATIONS on winning Firelands Conference Champion to our 2022 girls track team!

Congrats to our Relay Teams!!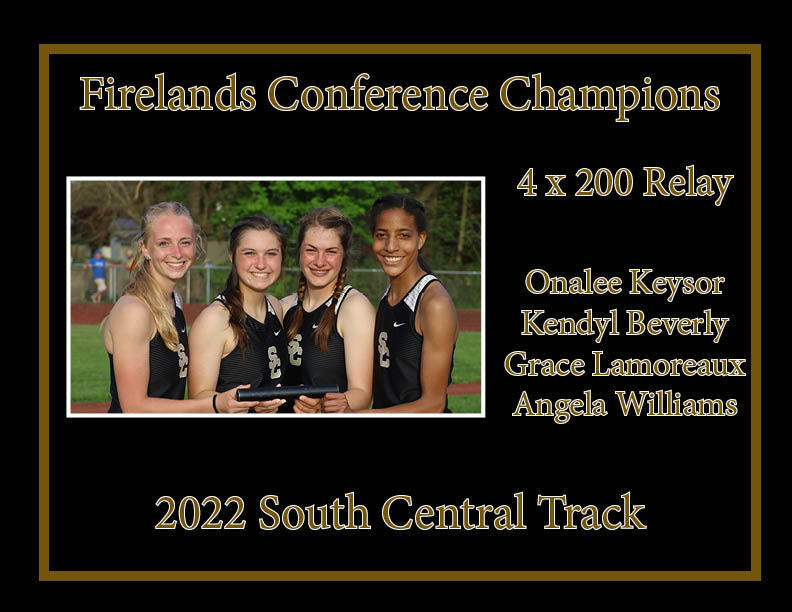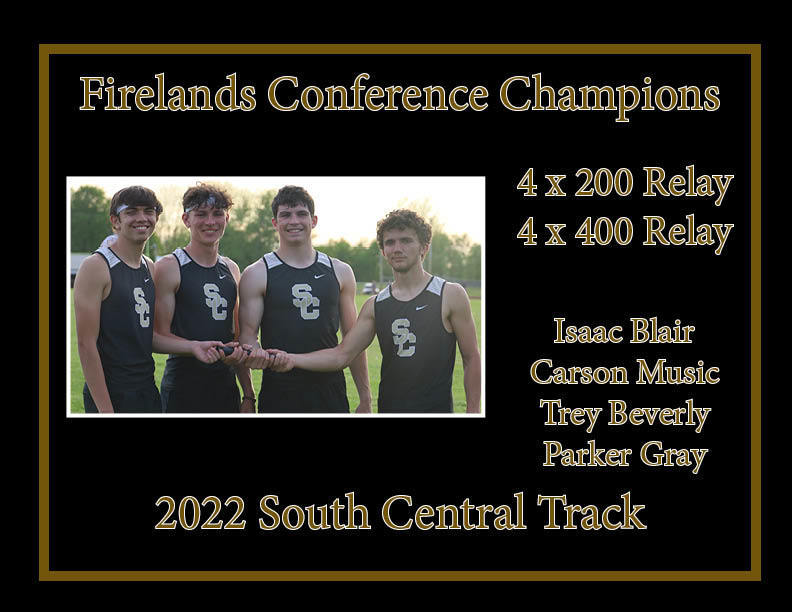 Congratulations to our Girls Track individual winners!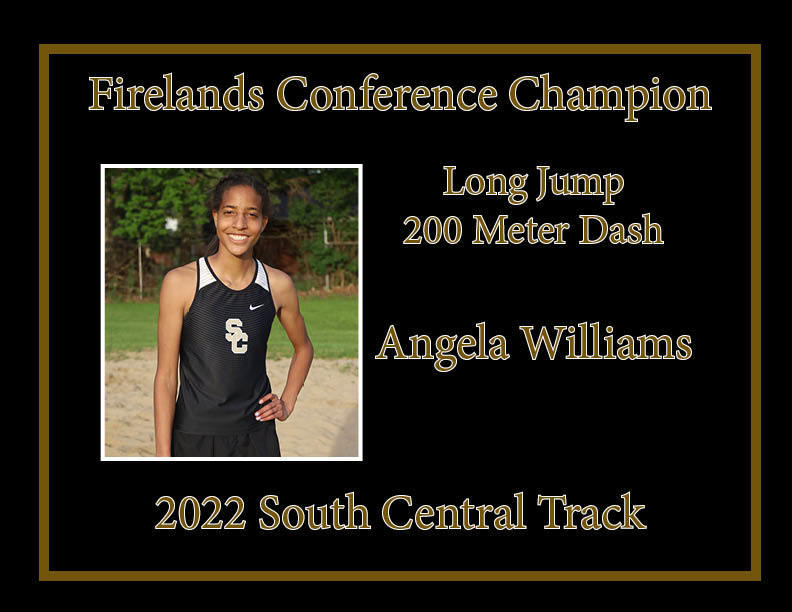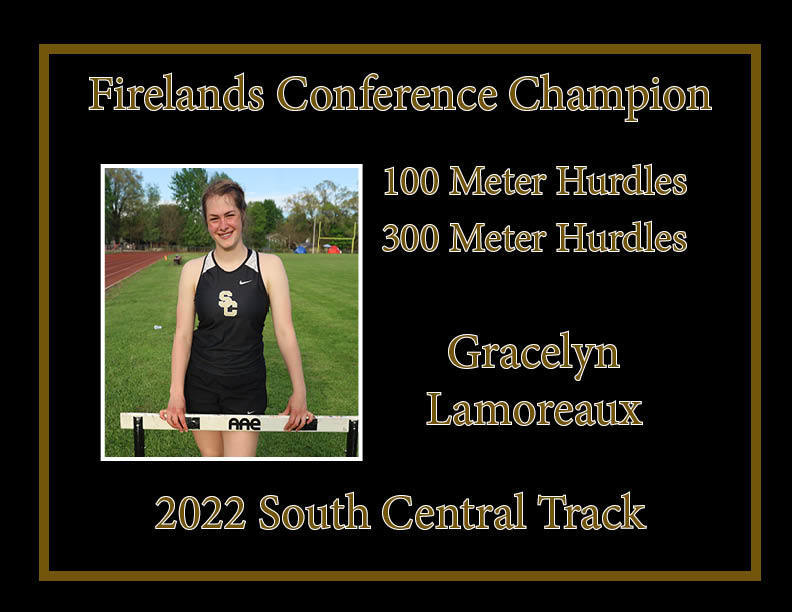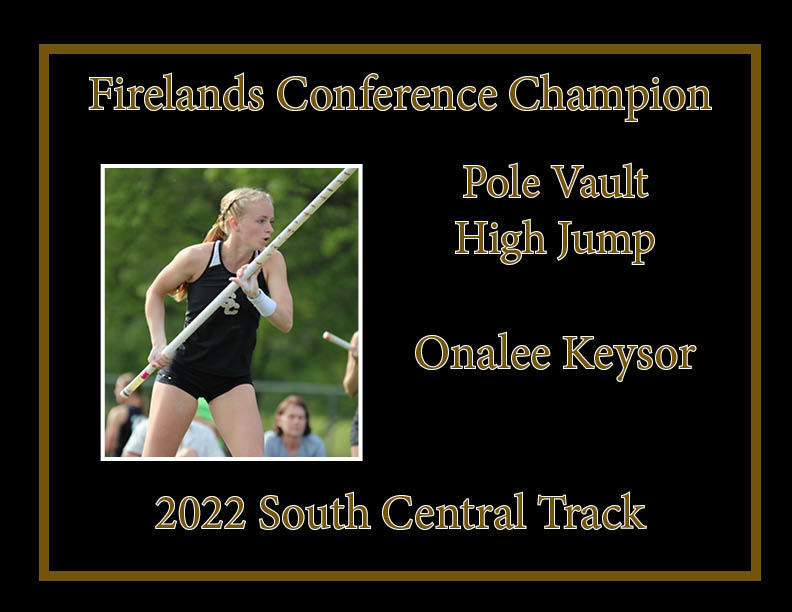 Congrats to our Boys Track individual winners!