As most of you are aware last years USO drive, headed up by our own Aimee Lloyd and backed by TLC member Gracelyn Lamoreaux, was a huge success! If you don't know, this organization is very near and dear to Aimee's heart, having a son in the National Guard. The USO supplies hygiene products, snacks, and a nice place to relax for our men and women in the service. They have helped Aimee's son in many ways and this is her way of giving back! Every year Aimee sets a goal to fill a truck bed with boxes to take to Firelands Electric and this year is no different! Please consider picking up a couple of things on the list the next time you are shopping and they can be donated at the school. Anything that you can give is MUCHLY appreciated!!! If you are not the shopping kind of person, please feel free to let Aimee do the shopping for you! (It's kind of her thing!) Please find attached the list of items the USO is looking for this year. The donations collected will be taken on the 15th of December. Thank you so much to everyone for your consideration!!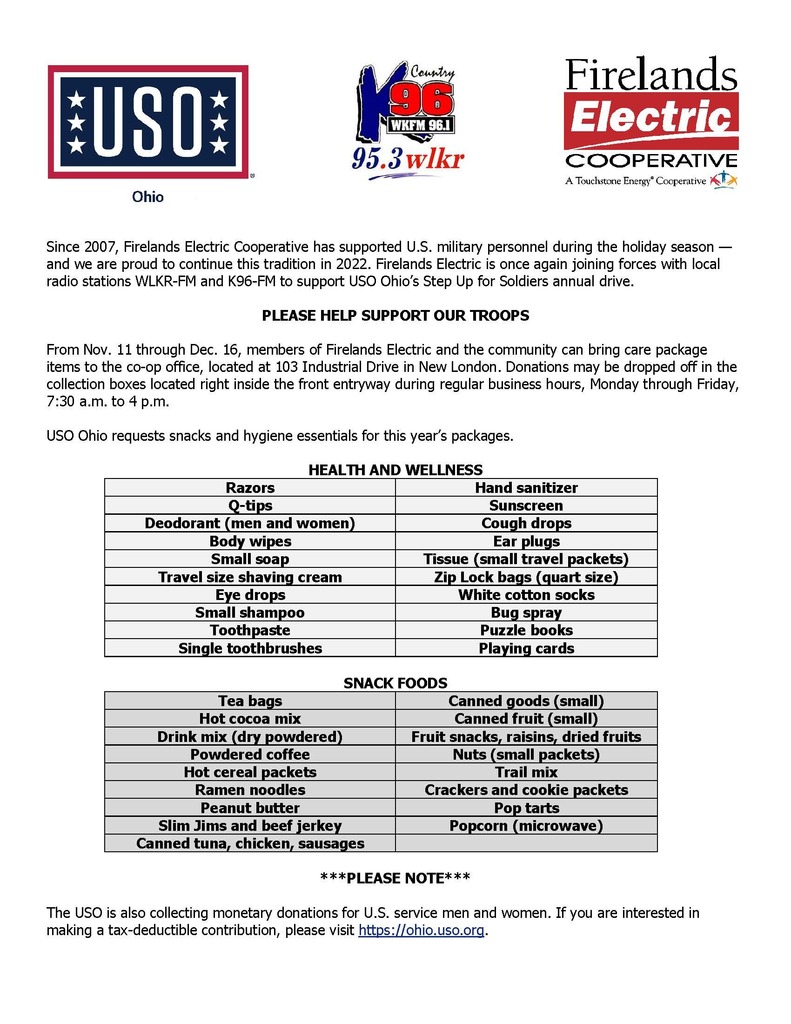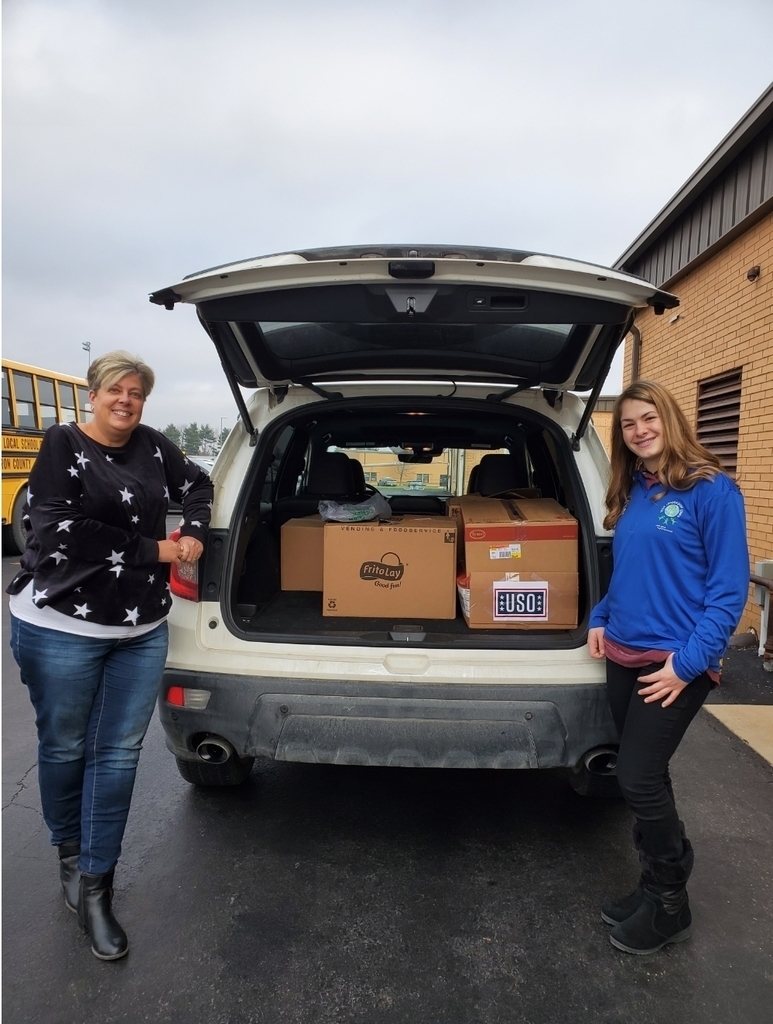 Help Wanted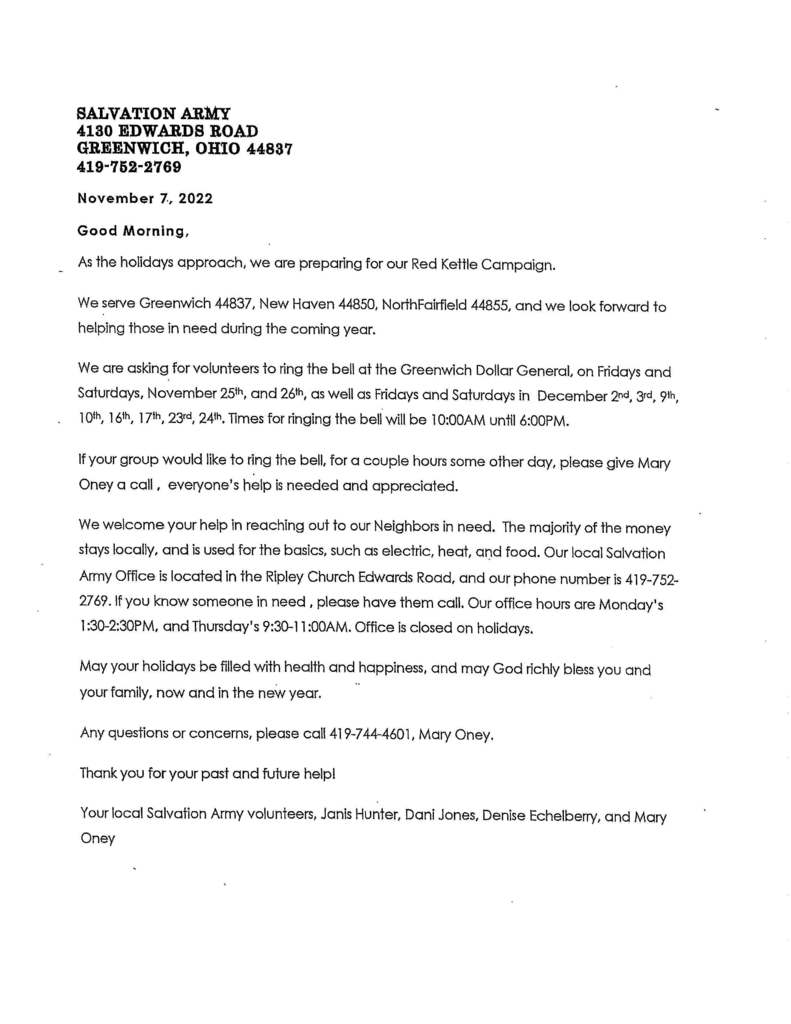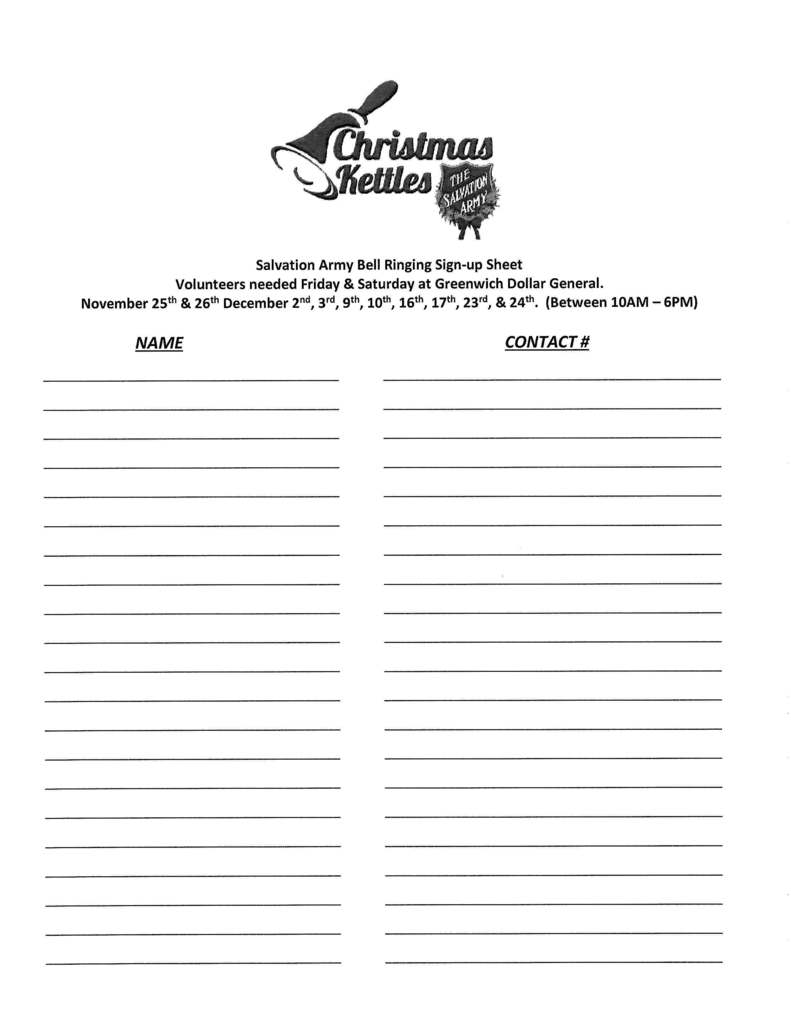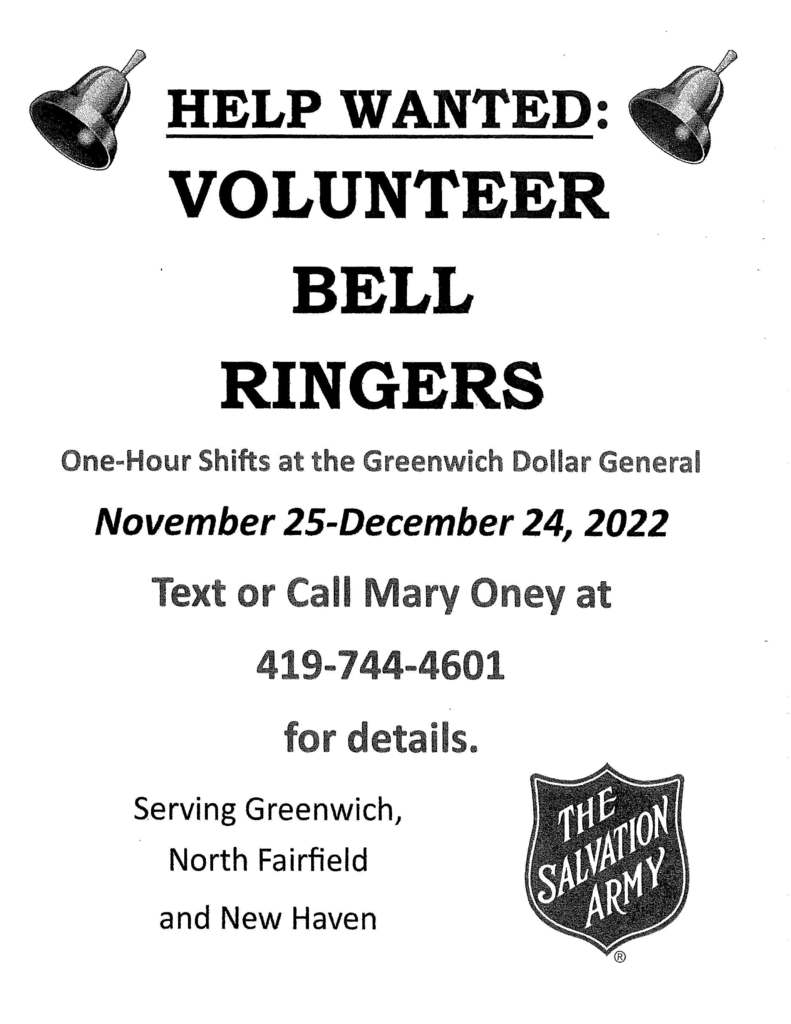 Congratulations to the following District 6 Volleyball Award winners: Angela Williams- 2nd team Lydia Chaffee- Honorable Mention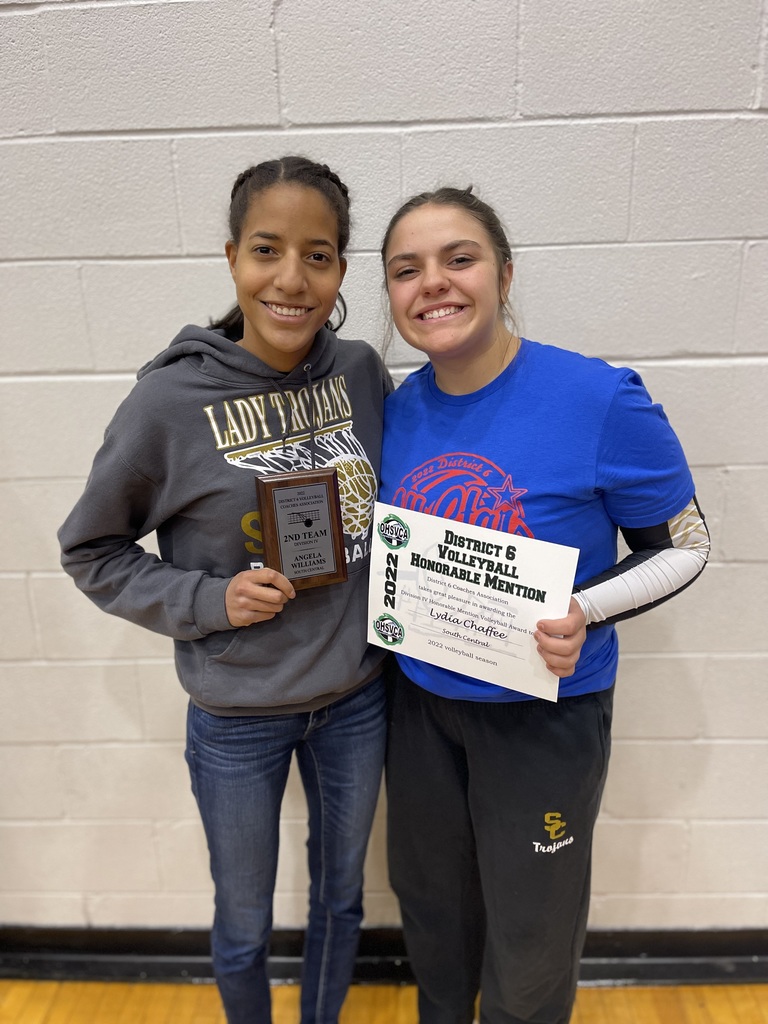 The Village of Greenwich is under a boil alert until further notice.

Today, November 14, 2022, we are EARLY RELEASING at 10:30 a.m. due to a water main break. Students who are bus riders will be bussed to their pre-set early release locations. PRACTICES TONIGHT are still on as scheduled.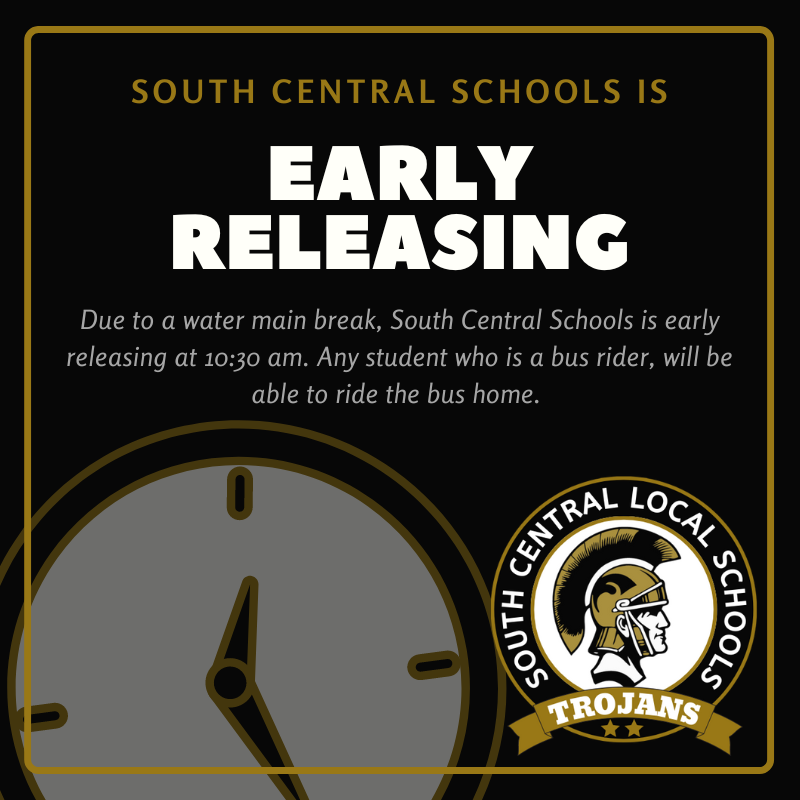 S.C. 3rd/4th grade Biddy Basketball begins tomorrow, Saturday, 11/12 from 8-9:30 a.m. in the K-8 Gym. All forms and money ($25) can be brought to first workout. See the attached graphic for more details.

Nov 2 -- SC on 2hr delay due to fog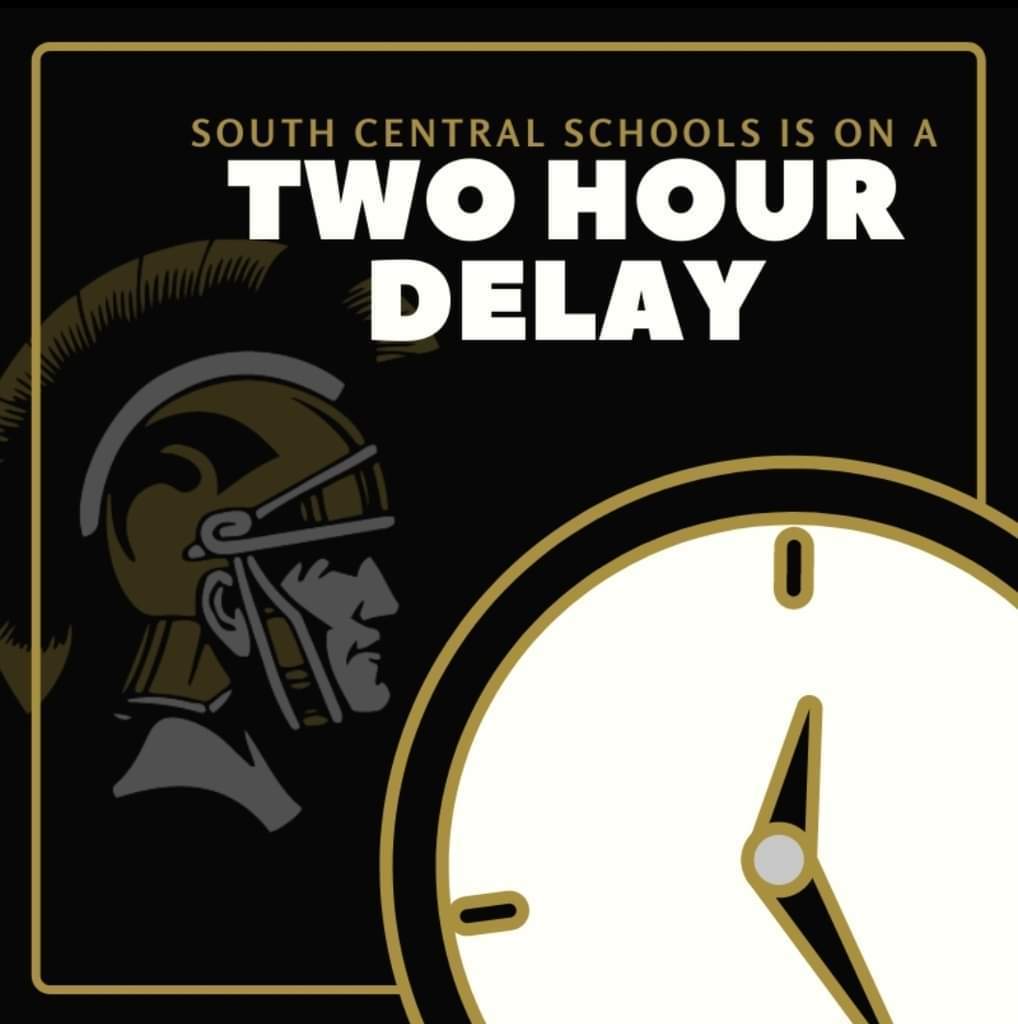 It's Book Fair time!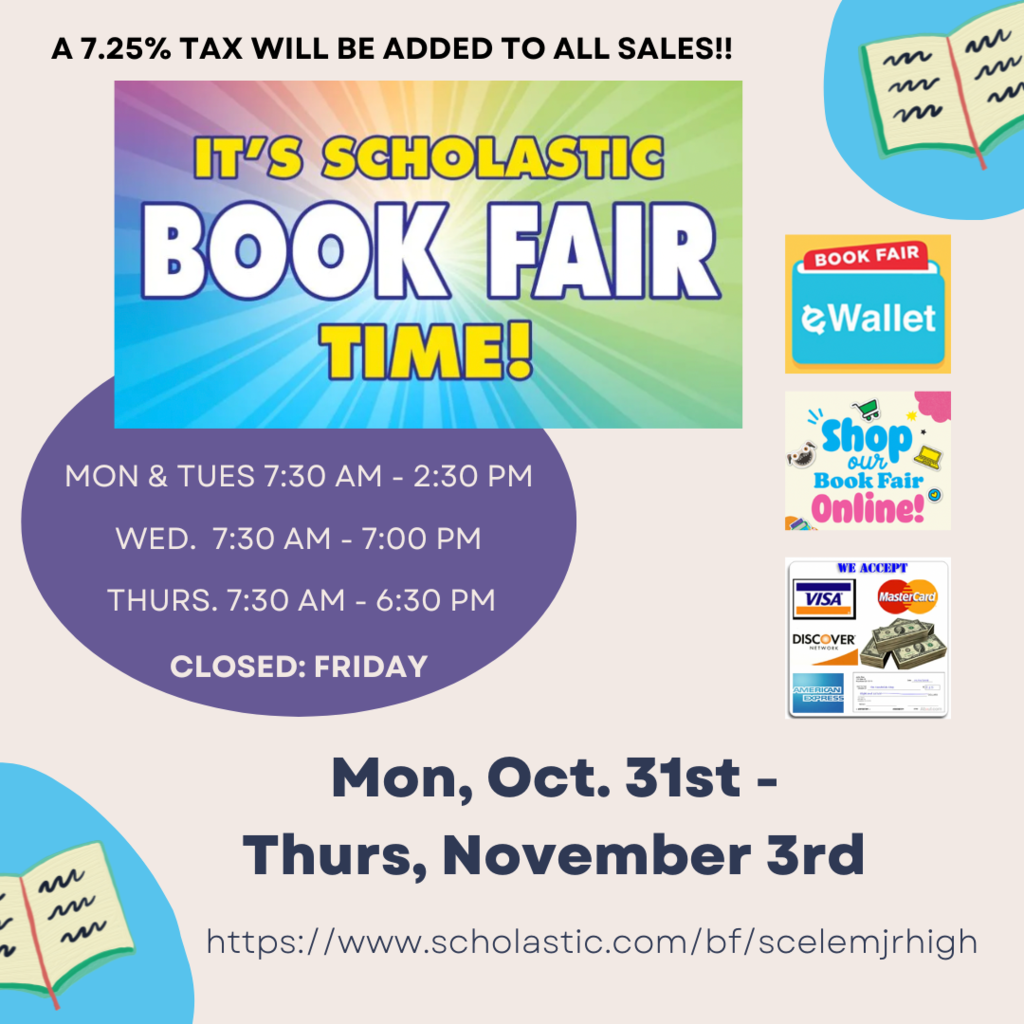 Trick or Treat on the Track is underway from 5-8 p.m. tonight in the S.C.H.S. Stadium for kids ages of 5th grade and under. All 6-12 grade students are encourage to come help make the night memorable for our younger students. Come join the fun! 🎃

Tonight is the Box Office Night for the 2022 Musical Guys and Dolls presented by the S.C. Theatre. Please see the attached graphic for more details. The link to order tickets online is below. Get your ticket today!
https://www.payschoolsevents.com/events/details/22948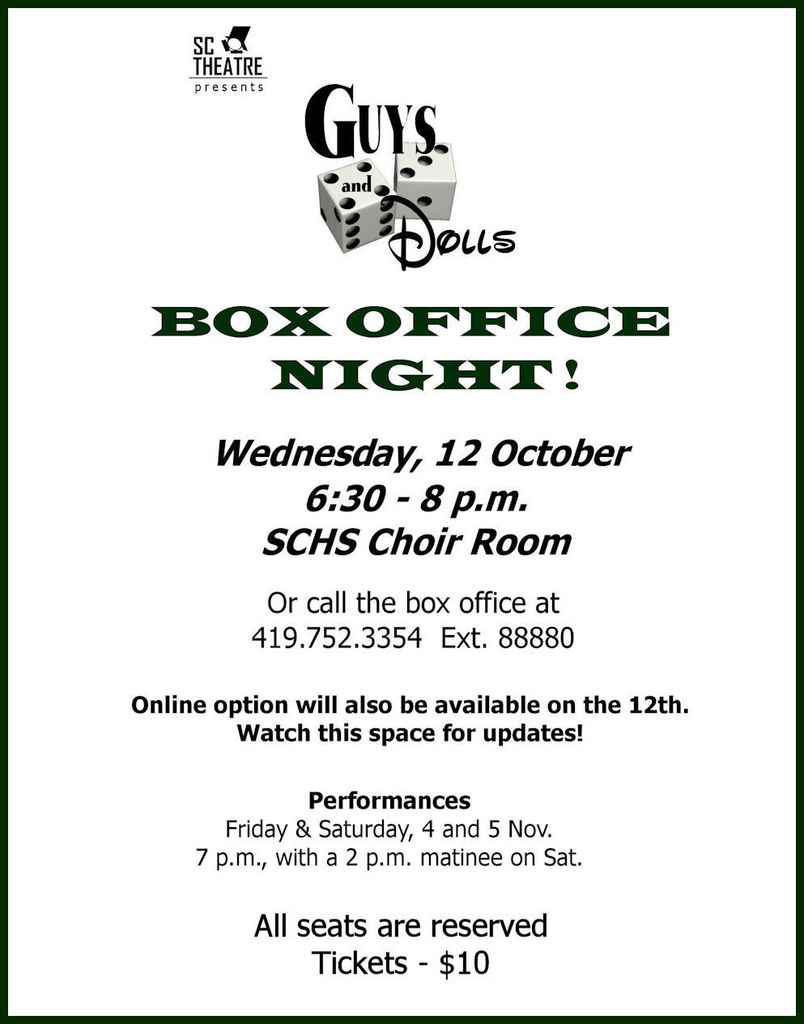 South Central High School will be presenting a Remember and Honor Our Veterans program on Friday, November 11th. The program will begin around 9:00 a.m. in the South Central High School gymnasium. A light breakfast will be served before the program at 8:15 a.m. Please R.S.V.P. to Ms. Brown, South Central High School secretary, no later than November 4th. She can be reached at 419-752-3354.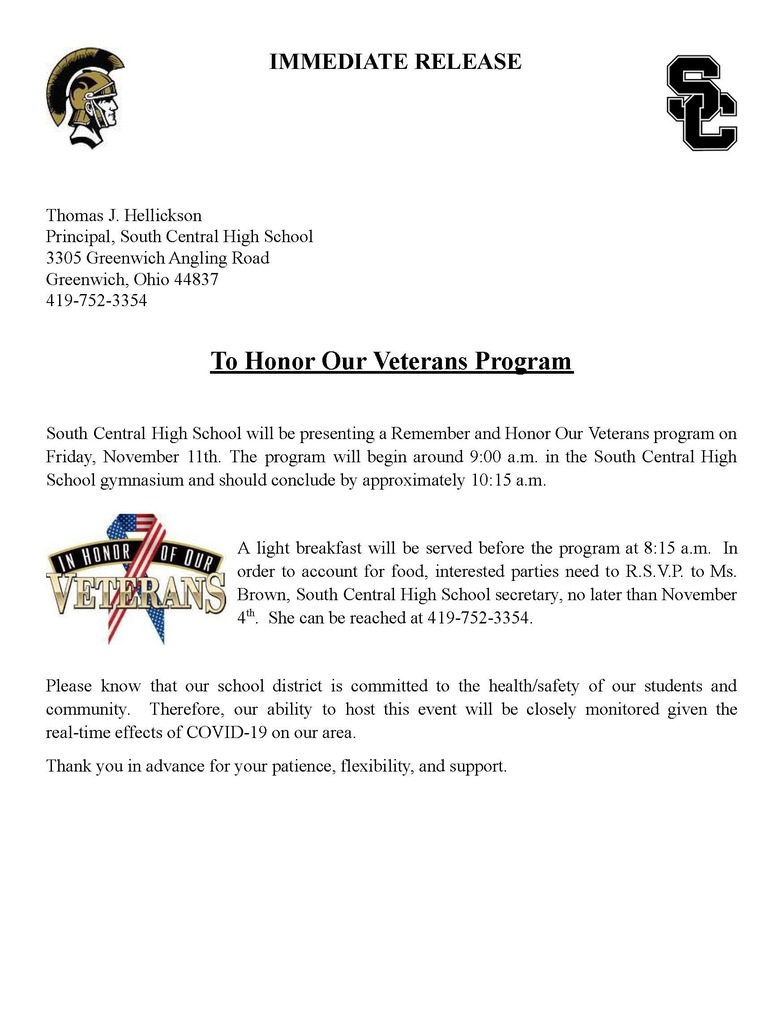 Please see the attached graphic for information about the 2022 Guys and Dolls Musical present by the S.C. Theatre and the upcoming Box Office Night.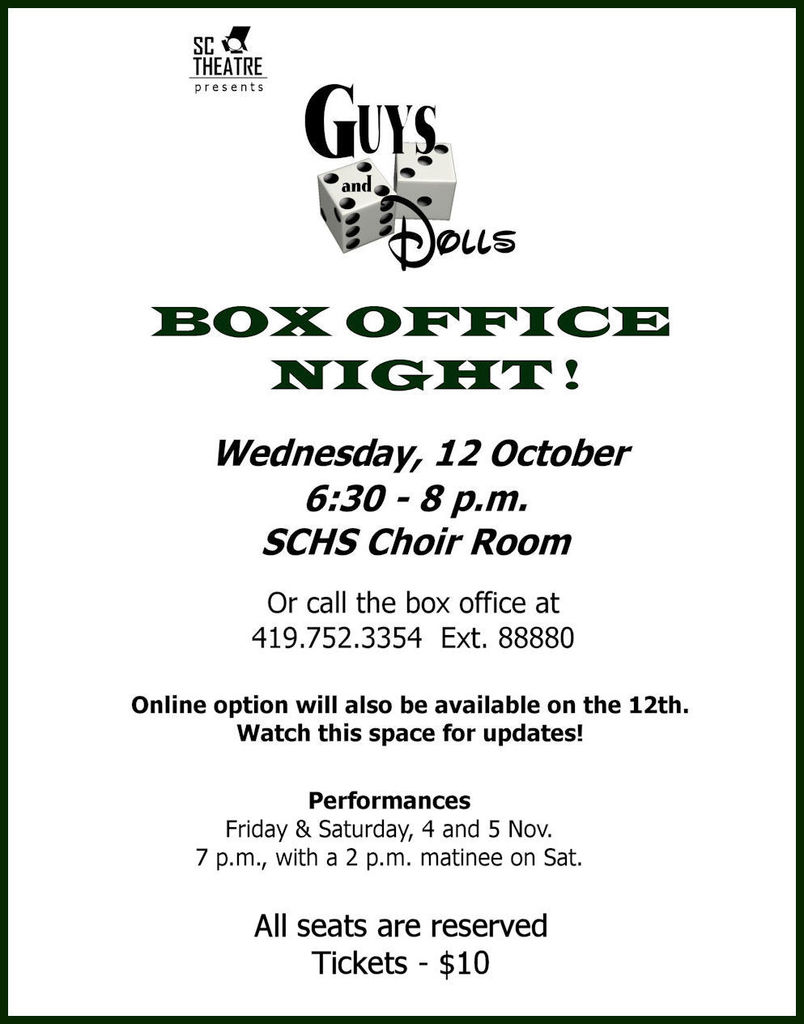 "Gold Out" this Friday, October 7th for the Homecoming game vs Mapleton. This "Gold Out" will encourage our Trojan football players while also promoting awareness of childhood cancer. More specifically it will show our support for a Mapleton 1st grader named Addi Brightbill who is currently fighting a second occurrence of Neuroblastoma.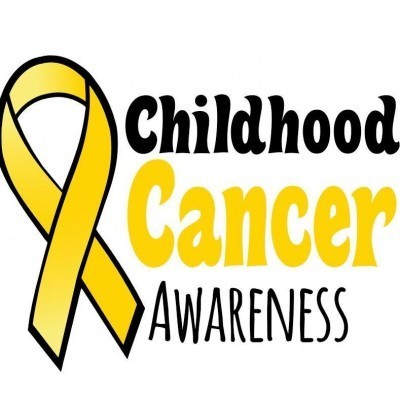 Please see the attached picture for a list of Homecoming 2022 activities and details.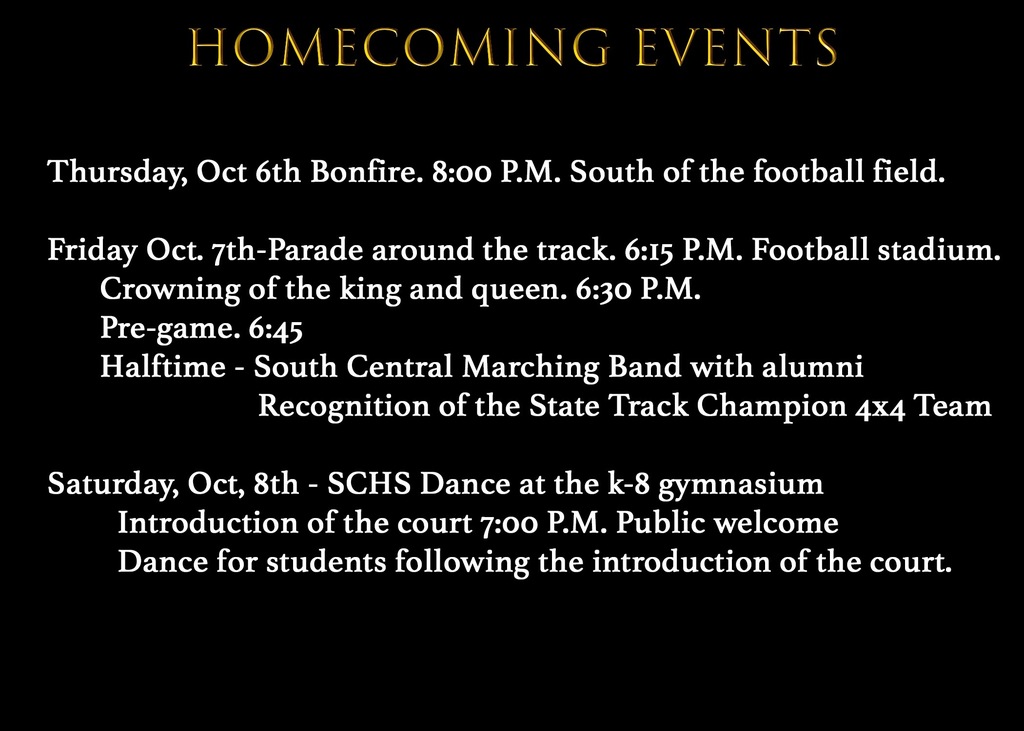 The Homecoming bonfire will be this Thursday, October 6th, at 8:00 p.m., at South end of football stadium. This event will follow the volleyball game. All South Central community members are welcome.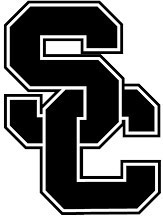 We are asking for quotes for snow removal at the South Central Local Schools for the 2022-2023 school year. Please find the bid specifications attached. "Together we can"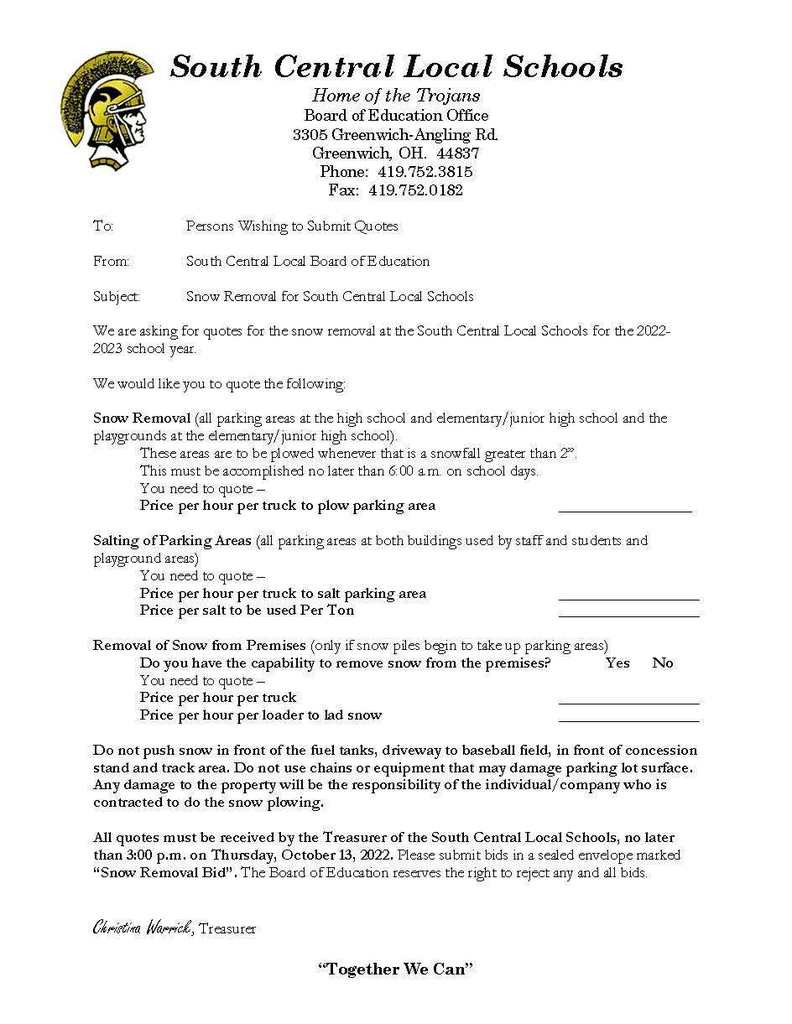 Looking for something to do this today? Why not come to the 7th Annual SC Parade of Bands at 7:00 PM at the football stadium. Featuring local area high school marching bands and our traditional LIGHTS OUT show performed by our SC Marching Band. Tickets are $8 at the gate, kids 4 and younger are FREE! Concessions and glow sticks are available. 

Give me a C...C! Give me an I...I! Give me a T...T! What's that spell? Cheerleaders In Training! This Friday, September 9th, under the lights at the Varsity football game, our spunky little squad of mini-cheerleaders will be showcasing the cheers, chants and dances they are learning this week! Please make sure your daughter arrives at the North end of the home stands by 6:45 p.m. on Friday. A high school cheerleader will be there to check in your daughter. Your CIT needs to wear this year's CIT shirt and dark shorts, skirt or pants with comfortable shoes. Members of CIT have free admission to the game, but parents will need to purchase a ticket at the gate or presale at the school. Grades K, 3 and 4 will cheer during the 1st quarter Grades 1 and 2 will cheer during the 2nd quarter If your child cheers during 1st quarter, you may sign her out with the coaches after the 1st quarter. If your child cheers during 2nd quarter, they will sit with the cheerleaders until it is time to cheer. All remaining cheerleaders will be released at the end of the 2nd quarter. If your child is also signed up for Be in the Band, we will make arrangements to get her to the band before halftime. Thank you for your continued support of the South Central Cheerleading program. Go Trojans!